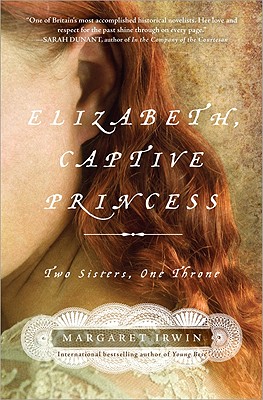 Elizabeth, Captive Princess: Two Sisters, One Throne (Paperback)
Two Sisters, One Throne
Sourcebooks Landmark, 9781402229978, 332pp.
Publication Date: October 1, 2010
* Individual store prices may vary.
or
Not Currently Available for Direct Purchase
Description
From an acclaimed master of historical fiction, a captivating series that is "vivid and psychologically brilliant."
-Times Literary Supplement, UK
In July 1553, sibling rivalry looms perilous, even life-threatening, between the daughters of King Henry VIII. Their brother King Edward is dead, his successor Lady Jane Grey has been beheaded, and Queen Mary Tudor has just won possession of the throne. But her younger half sister-the beautiful and vivacious Princess Elizabeth-holds the hearts of the people. Despite Mary's health fading fast and her power beginning to crumble, she won't give up the throne, determined to rule to the absolute end as her father did before her. In these treacherous times, when all about her there is secrecy and deception, Elizabeth must rely on her faith and courage if she is to survive her ordeal and rise to fulfill her destiny. With grace and elegance, Margaret Irwin continues the story begun in Young Bess, giving readers an intimate peek into the world of that most enigmatic of Britain's monarchs.
"I doubt if anyone could create more perfectly than Miss Irwin the illusion of a vanished age."
-Observer
"Margaret Irwin's books have an unsurpassed colour and gusto."
-Times
What Readers Are Saying
"It is factually accurate and puts you in the center of the action, and her writing style makes the characters seem vividly real and gets the reader emotionally involved."
About the Author
Margaret Irwin (1889-1969) was a master of historical fiction, blending meticulous research with real storytelling flair to create some of England's best-loved and most widely acclaimed novels, including Young Bess, Elizabeth and the Prince of Spain, The Gay Galliard, and the Stranger Prince.
Advertisement