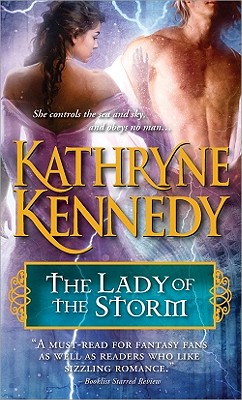 The Lady of the Storm (Mass Market Paperbound)
Sourcebooks Casablanca, 9781402236532, 406pp.
Publication Date: August 2, 2011
* Individual store prices may vary.
Description
One of Booklist's 101 Best Romance Novels of the Last 10 Years from an awe-inspiring, award-winning author
Half-human daughter of the Elven lord of Sea and Sky, Cecily Sutton has been raised in hiding. But when an attack on her village leaves her mother dead and her adoptive father missing, Cecily must turn the village blacksmith to help find him.
Giles Beaumont is stuck in a role he never wanted. He longs for action and adventure, but settles for his role as a blacksmith in a provincial village--all the while guarding Cecily from the shadows. Having sworn an oath to her stepfather to keep her safe, Giles has no other choice but to follow after Cecily as she sets out to find him.
But duty is quickly replaced with desire as the search for Cecily's stepfather leads to a magical destiny that could end the rule of the Elven Lords.
The perfect blend of fantasy, romance, and adventure, The Lady of the Storm is an adventurous romance. Readers of Karen Monin, Sherrilyn Kenyon, Kresley Cole, and Diane Duval will be excited to follow Cecily and Giles on their perilous journey and be fascinated as they uncover the deep, dark connection that binds one to the other.
The Elven Lords Historical Fantasy Romance Trilogy:
The Fire Lord's Lover (Book 1)
The Lady of the Storm (Book 2)
The Lord of Illusion (Book 3)
What people are saying about Kathryne Kennedy
"As darkly imaginative as Tolkien, as richly romantic as Heyer, Kennedy carves a new genre in romantic fiction." -Erin Quinn, author of Haunting Warrior
" Kennedy] has created characters that live and breathe between the pages; a talent which is, in my opinion, a hallmark of skilled storytelling."--Fresh Fiction
"Ms. Kennedy's a pro at creating memorable characters, comical situations, a fun dialog, and an endearing love story."--Sia McKye's Thoughts Over Coffee
About the Author
Kathryne Kennedy is an acclaimed, multipublished, award-winning author of magical romances. She welcomes readers to visit her website where she has ongoing contests at www.KathryneKennedy.com. She's lived in Guam, Okinawa, and several states in the U.S., and currently lives with her wonderful family in Glendale, Arizona.
or
Not Currently Available for Direct Purchase