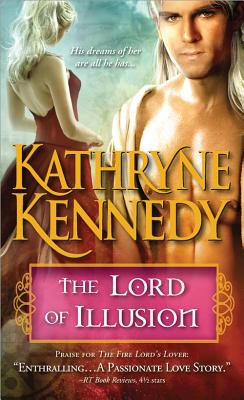 The Lord of Illusion (Mass Market Paperbound)
Sourcebooks Casablanca, 9781402236549, 448pp.
Publication Date: February 7, 2012
* Individual store prices may vary.
Description
One of Booklist's 101 Best Romance Novels of the Last 10 Years from a highly imaginative, award-winning author
Lord Drystan Hawkes dreams of fighting for England's freedom from the endless evils of the Elven Lords. But first he must find the beautiful slave girl who holds the secret to his quest.
Enslaved for years in a realm of illusion, Camille Ashton has learned to trust no one. But she's truly spellbound when she meets Drystan, and somehow when they are together, she can see what's true.
Together, Drystan and Camille must solve the mystery to open the portal and gain England's freedom from Elven rule.
A unique combination of historical and fantasy romance, The Lord of Illusion is an adventurous romance. Readers of Karen Monin, Sherrilyn Kenyon, Kresley Cole, and Diane Duval will be engrossed by Kathryne Kennedy's use of magic, violence and romance to paint a picture of an alternative history of England.
The Elven Lords Historical Fantasy Romance Trilogy:
The Fire Lord's Lover (Book 1): In a magical land ruled by ruthless Elven lords, the Fire Lord's son Dominic Raikes plays a deadly game to conceal his growing might from his malevolent father-until his arranged bride awakens in him passions he thought he had buried forever.
The Lady of the Storm (Book 2): Giles Beaumont is reluctantly assigned to protect an Elven Lord's daughter...until he falls under her enchanting spell
The Lord of Illusion (Book 3)
What readers are saying about
The Lord of Illusion
"A wonderful tale as the heroic protagonists are prepared to die for their noble cause while each is willing to sacrifice themselves for the other."
"An enchanting story about love, passion and magic."
..".an epic adventure."
What reviewers are saying about
The Lord of Illusion
"
The world sings with
vivid imagery and fantastic magic
, and all the previous characters join forces in a thrilling final fight for humankind."-Publishers Weekly, STARRED Review
"While this novel remains true to romance-genre mores, Kennedy infuses it with unexpected plot twists that will keep fantasy readers enthralled, too."-Booklist, STARRED Review
"Superb writing and a fast-moving plot combined with magical passion make this a real page-turner "-Publishers Weekly
"An enchanting world with characters that live and breathe between the pages... The Lord of Illusion is sensory nirvana."-Long and Short Reviews
"Exquisitely imagined... Startling magic and vivid illusion... An action-packed adventure that will appeal to both romance and fantasy fans..."-Library Journal
What people are saying about Kathryne Kennedy
"Kennedy's world-building is unparalleled in the fantasy genre and her plotting is amazing. This is a book any romantic fantasy fan would be thrilled to read."-Debbie's Book Bag
"As darkly imaginative as Tolkien, as richly romantic as Heyer, Kennedy carves a new genre in romantic fiction." -Erin Quinn, author of Haunting Warrior
" Kennedy] has created characters that live and breathe between the pages; a talent which is, in my opinion, a hallmark of skilled storytelling."-Fresh Fiction
"Ms. Kennedy's a pro at creating memorable characters, comical situations, a fun dialog, and an endearing love story."-Sia McKye's Thoughts Over Coffee
About the Author
Kathryne Kennedy is a an acclaimed, multi-published, award-winning author of magical romances. She welcomes readers to visit her website where she has ongoing contests: www.KathryneKennedy.com. She's lived in Guam, Okinawa, and several states in the US, and currently lives with her wonderful family in Glendale, Arizona.
or
Not Currently Available for Direct Purchase