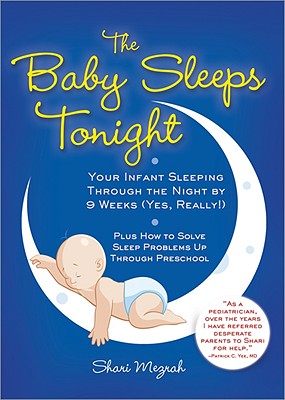 The Baby Sleeps Tonight (Paperback)
Your Infant Sleeping Through the Night by 9 Weeks (Yes, Really!)
Sourcebooks, 9781402238093, 210pp.
Publication Date: April 1, 2010
* Individual store prices may vary.
Description
The Baby Sleeps Tonight offers a concise, pocket-sized guide packed with simple effective solutions that rely on a proven model of sleeping success. Sleep schedule specialist Shari Mezrah outlines quick and specific instructions to teach anyone, no matter how sleep deprived, how to create order and happiness in their household by getting baby to sleep through the night by nine weeks. The secret to the plan is the practical and progressive schedule that the author developed and has been teaching for over 10 years, and the easy to understand schedules, checklists, and helpful tips aimed at every stage of development for the first year and beyond. Planning for predictable happiness using The Baby Sleeps Tonight system helps new parents regain control over their lives, guiding them through the thorny problem of sleep schedules all the way from prebirth through the toddler years and ensuring that baby-and the whole family-sleeps tonight.
About the Author
About Shari Mezrah, "The Sleep Mom" Shari Mezrah is a sleep schedule specialist and mother of two who developed the innovative The Baby Sleeps Tonight program in 1999, and published her first book, The Baby Sleeps Tonight: Your Infant Sleeping Through the Night by 9 Weeks (Yes, Really!) in April 2010. Through her Tampa-based consulting practice, BabyTIME, Mezrah has helped hundreds of families worldwide turn chaos into calm and regain control over their lives by getting babies and toddlers on schedules and sleeping through the night. In addition to schedules for feedings, naps and wake times, she provides successful techniques for soothing and stimulating, making transitions and mapping out plans for caregivers, among many other challenges new parents face. She appears as a nationally recognized expert on the syndicated talk show "Daytime," in addition to being featured on ABC, FOX, NBC and CBS. Mezrah is a much sought after guest speaker for hospitals, pediatricians, child psychologists, ob/gyns and parenting organizations. She has served on the Board of Directors for the Glazer Children's Museum in Tampaand has been active with the Alpha House of Tampa, a nonprofit organization focused on empowering pregnant women and moms in crisis. Mezrah holds a Bachelor of Arts in Speech Communication from California State University. For more information, visit www.sharimezrah.com.