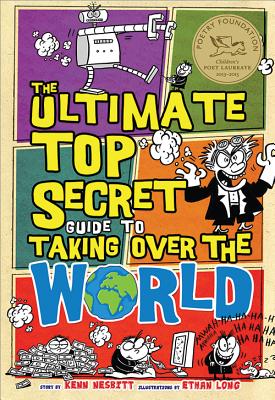 The Ultimate Top Secret Guide to Taking Over the World (Paperback)
Sourcebooks Jabberwocky, 9781402238345, 182pp.
Publication Date: July 1, 2011
Description
By the time you're done reading this diabolically clever book, you'll have entire countries groveling at your feet. Kings and prime ministers will bow before you and beg for mercy. Maybe even cry. Doesn't that sound insanely fantastic? Of course it does.
That's why I wrote this book.
All you have to do is follow the instructions I've laid out and in no time at all you will be laughing maniacally as the world cowers before you...
About the Author
Kenn Nesbitt was destined to rule the world from an early age but, fortunately for mankind, got sidetracked writing six collections of funny poetry for kids-including "My Hippo Has the Hiccups "and "The Tighty-Whitey Spider"-and one picture book, the patently untrue story of the author's struggle to wrest control of his book from the children who want it to have "More Bears! "By visiting schools throughout the nation, Kenn regularly dupes unsuspecting children into thinking that reading is fun and writing is easy. Kenn is currently plotting the overthrow of humanity from his underground fortress in Spokane, Washington where he hides out with his wife and two minions.
Advertisement