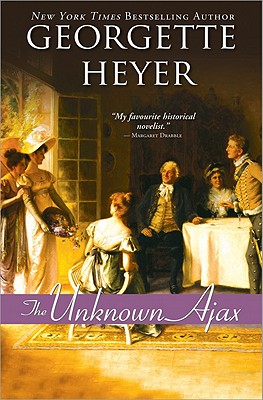 The Unknown Ajax (Paperback)
Sourcebooks Casablanca, 9781402238826, 373pp.
Publication Date: September 1, 2011
* Individual store prices may vary.
Description
"Wonderful entertainment from first page to last."--Chicago Sunday Tribune
A past dispute ...
When the irascible Lord Darracott's eldest son dies unexpectedly, the noble family must accept their estranged Yorkshire cousin as heir apparent. They are convinced he will prove to be a sadly vulgar person, but nothing could have prepared the beleaguered family for the arrival of Major Hugo Darracott ...
A present deception...
His clever and beautiful cousin Anthea is sure there's more to the gentle giant than Hugo's innocent blue eyes and broad Yorkshire brogue would lead one to believe. But even she doesn't guess what he's capable of, until a family crisis arises and only Hugo can preserve the family's honor, leading everybody on a merry chase in the process ...
What Readers Say:
"What Heyer does best: comedy, engaging characters, and excellent writing."
"A very enjoyable romp with a positively masterly denouement."
"Georgette Heyer reaches the pinnacle of her skill with this book."
"Among the best of Heyer's Regency novels ? very, very funny."
"The pitch-perfect comedy, as the Ajax takes the reins of the family, is fantastic."
About the Author
The late Georgette Heyer was a very private woman. Her historical novels have charmed and delighted millions of readers for decades, though she rarely reached out to the public to discuss her works or private life. She was born in Wimbledon in August 1902. She wrote her first novel, The Black Moth, at the age of seventeen to amuse her convalescent brother; it was published in 1921 and became an instant success. Heyer published 56 books over the next 53 years, until her death from lung cancer in 1974. Heyer's large volume of works included Regency romances, mysteries and historical fiction. Known as the Queen of Regency romance, Heyer was legendary for her research, historical accuracy and her extraordinary plots and characterizations. Her last book, My Lord John, was published posthumously in 1975. She was married to George Ronald Rougier, a barrister, and they had one son, Richard.