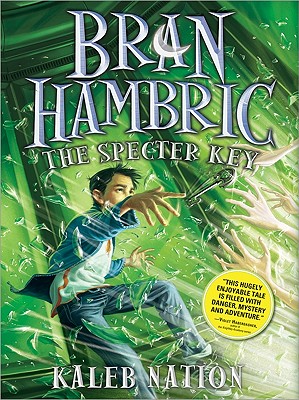 Bran Hambric
The Specter Key
Paperback

* Individual store prices may vary.
Other Editions of This Title:
Compact Disc (10/1/2010)
Description
Kaleb Nation delivers an exceptional follow-up to his debut hit THE FARFIELD CURSE. In the SPECTER KEY magical hero Bran Hambric must choose to save his friend Astara, his father--and himself, if he possibly can.
Bran Hambric believes that the Farfield Curse is over with. But when he discovers a safe-deposit box in his dead mother's name--in the very bank vault where he was discovered as a boy--Bran's past comes rushing back. Now he's on a frightening path that puts everyone he cares about in danger.
When Bran's best friend, Astara, is kidnapped, Bran will do whatever it takes to save her and prevent the evil mage on his trail from claiming the power of the curse for herself. But will the magic destroy him the way it destroyed his mother?
Praise for Kaleb Nation:
"Kaleb Nation's wry sense of humor kept me smiling, even while the mystical sparks flew. Get ready for lots of surprises ..."--D. J. MACHALE, author of the Pendragon Series
"Whimsy, magic, and suspense collide in this breathtaking tale. The Farfield Curse is a story you'll want to pick up, but not put down "--KAZA KINGSLEY, author of the bestselling Erec Rex series
Sourcebooks Jabberwocky, 9781402240591, 337pp.
Publication Date: October 10, 2010
About the Author
As a child, Kaleb Nation had to be forced to write one page a week in creative writing. But after he finished his first story, no one could make him to stop. Age twelve, he telephoned the editor of a major publisher to pitch his book, but got to talk with security instead. Years later, his books are now produced by publishers worldwide... including the one who first turned him down. Aside from writing, Kaleb is a blogger and a former radio host. He turned 21 in 2009 and currently lives in California. Visit Kaleb online at www.kalebnation.com.
or
Not Currently Available for Direct Purchase