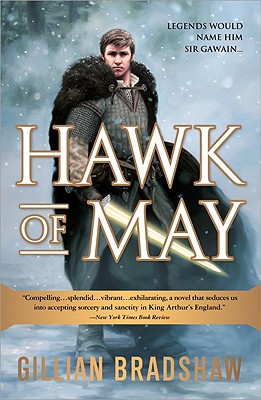 Hawk of May (Paperback)
Sourcebooks Landmark, 9781402240706, 363pp.
Publication Date: September 1, 2010
* Individual store prices may vary.
Description
"Intelligent and imaginative...even the magic convinces."
-Mary Renault, author of "The King Must Die"
"On The Path Toward Greatness, Every Hero Makes a Choice"
Legends sing of Sir Gawain, one of the most respected warriors of King Arthur's reign and one of the greatest champions of all time. But this is not that story. This is the story of Gwalchmai, middle son of the beautiful, infinitely evil sorceress Morgawse, and gifted student of her dark magical arts. A story of an uncertain man, doubting his ability to follow his elder brother's warrior prowess and seeking to find his own identity by bonding with his frightening and powerful mother. Disappointed in himself and despised by his father, Gwalchmai sets out on a journey that will lead him to the brink of darkness...
A tale of loss, redemption, and adventure, "Hawk of May "brings new depth and understanding to Sir Gawain, the legend of King Arthur, and the impact of choices made-and the consequences that follow.
"A welcome new light on the horizon of popular Arthurian legend...delightful...a strong sense of love and mysticism...a ripping adventure tale."
"-Booklist"
"Will appeal to those who have enjoyed Tolkien's works."
"-Library Journal"
"Compelling...splendid...vibrant...exhilarating...a novel that seduces us into accepting sorcery and sanctity in King Arthur's England."
"-New York Times Book Review.
or
Not Currently Available for Direct Purchase