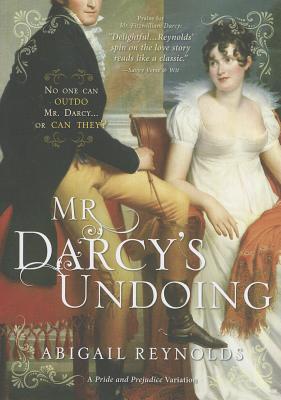 Mr. Darcy's Undoing (A Pride and Prejudice Variation)
Paperback

* Individual store prices may vary.
Description
What could possibly make a proper gentleman come completely undone?
What if Elizabeth Bennet accepted the proposal of another before she met Mr. Darcy again?
In Abigail Reynolds' bold and playful retelling of the Austen classic (originally self-published as Without Reserve), a devastated Mr. Darcy must decide how far he is willing to go to win the woman he loves. Consumed by jealousy, he knows that winning her will throw them both into scandal and disgrace, but losing her is unbearable. Mr. Darcy is going to have to fight for his love, and his life...
Praise for Abigail Reynolds' Pride and Prejudice variations:
"Lovers of steamy period romances will find plenty to whet their appetites here." —Booklist
"Compulsively readable. . .treats readers to an oh-so-spicy alternative story line." —Library Journal
"A delightful and enticing read. . .it works brilliantly." — Rundpinne
"Romance worthy of Austen herself." — Palmer's Picks for Reading
"Fresh and unique while staying true to the Darcy and Elizabeth I know and love." —Diary of and Eccentric
Praise For Mr. Darcy's Undoing (A Pride and Prejudice Variation)…
"Abigail Reynolds, one of my favorite Austenesque authors, is a skilled-story teller, an ardent admirer of Jane Austen, and quite proficient at infusing a lot of emotion, tension, and passion into her stories!" — Austenesque Reviews

"In her latest Pride and Prejudice variation, Mr. Darcy's Undoing, Abigail Reynolds offers a fanciful story, replete with anguish and raw emotion, exploring another possible road not taken by Jane Austen herself...an inventive, fiery, Regency romance." — Austen Prose

"What we have in this story is the tale of a man pursuing that which he wants, a few passionate encounters, and that which we all love, Mr. Darcy and Lizzie being totally and madly in love with each other." — Book Girl of Mur-y-Castell

"Mr. Darcy's Undoing is a great romance which finally pits Mr. Darcy against a realistic rival for Elizabeth's affections." — Laura's Reviews

"In Mr. Darcy's Undoing, Reynolds gives readers what they have come to expect from her Pride and Prejudice variations — different twists and turns as Elizabeth and Darcy navigate the same misunderstandings and plenty of heat as they skirt the bounds of propriety and often cross the line as they find they cannot keep their hands off each other." — Diary of an Eccentric

"Mr. Darcy's Undoing is another of Abigail Reynolds's trademark emotional, accurate takes on the Regency world of Pride and Prejudice." — Linda Banche and Her Historical Hilarity

"Mr. Darcy's Undoing by Abigail Reynolds is infused with bawdy conversation, conflict, societal disapprobation, and classic characters with modern sensibilities...Reynolds is masterful in her homage to Austen and her wit, while catering to readers' desire for romance and strong protagonists. Likely to be one of the first Austen spinoffs to make the end of year "Best of" list." — Savvy Verse & Wit

"For those that love Darcy and enjoy reading the P&P variations, AND don't mind a few steamy sex scenes....this is a good read!" — Life in the Thumb

"This one may be my favorite out of all the Abigail Reynolds' books I have read. I loved the concept. As much as I enjoy watching Lizzy get jealous as Darcy tries to marry someone else, it was somehow refreshing to read the reverse." — Books Like Breathing

"This is a fast moving, don't want to put down read. " — So Little Time

"This might be my favorite of Reynolds' variations, because I really enjoyed the changes to Darcy and Elizabeth's circumstances here...The trials that Reynolds has them face are exhilarating to read, and had me exceedingly pleased with the outcome. Reynolds must be patted on the back for yet another job well done. " — Reflections of a book Addict
Sourcebooks Landmark, 9781402240942, 336pp.
Publication Date: October 1, 2011
About the Author
Abigail Reynolds is a physician and a lifelong Jane Austen enthusiast. She began writing the Pride and Prejudice Variations series in 2001, and encouragement from fellow Austen fans convinced her to continue asking "What if…?" She lives with her husband and two teenage children in Madison, Wisconsin.
or
Not Currently Available for Direct Purchase