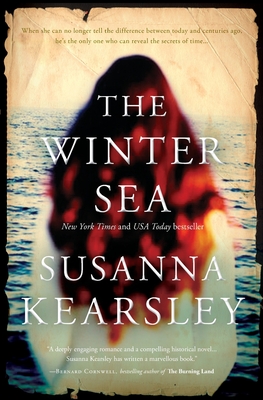 The Winter Sea (The Scottish series)
Paperback

* Individual store prices may vary.
Other Editions of This Title:
Mass Market (5/26/2020)
Library Binding, Large Print (2/23/2022)
Compact Disc (3/12/2013)
Description
A NEW YORK TIMES AND USA TODAY BESTSELLER!
"I've loved every one of Susanna's books! She has bedrock research and a butterfly's delicate touch with characters—sure recipe for historical fiction that sucks you in and won't let go!"—DIANA GABALDON, #1 New York Times bestselling author of Outlander
A hauntingly beautiful tale of love that transcends time: an American writer travels to Scotland to craft a novel about the Jacobite Rebellion, only to discover her own ancestral memories of that torrid moment in Scottish history...
In the spring of 1708, an invading Jacobite fleet of French and Scottish soldiers nearly succeeded in landing the exiled James Stewart in Scotland to reclaim his crown. When young Sophia Paterson travels to Slains Castle by the sea, she finds herself in the midst of the dangerous intrigue.
Now, Carrie McClelland hopes to turn that story into her next bestselling novel. Settling herself in the shadow of that historic Scottish castle, she starts to write. But when she discovers her novel is more fact than fiction, Carrie wonders if she might be the only living person who knows the truth—the ultimate betrayal—that happened all those years ago.
A sweeping historical fantasy of love, danger, and time travel, Susanna Kearsley masterfully weaves Scotland's past into Carrie's present in this stunning book.
Also by Susanna Kearsley:
The Rose Garden
Mariana
The Shadowy Horses
The Firebird
The Splendour Falls
Season of Storms
A Desperate Fortune
Named of the Dragon
Belleweather
Praise For The Winter Sea (The Scottish series)…
"From the moment I picked up this novel I was intoxicated by the idea of finding not just a muse but true love by pure accident.. A book not to be missed." -
Pencil Pushers and Ink Splotches
" I loved how the author wove the past and the present together as Carrie dreamed of the Jacobite invasion, finding inspiration for her novel, and then in her research discovered that her dreams were more than just dreams." -
Let Them Read Books
"I loved The
Winter Sea
. It drew me in from the start and I found myself reading faster and faster just to find out what would happen next... " -
Starting Fresh
"Kearsley's novel is highly reminiscent of Barbara Erskine's Lady of Hay and Mary Stewart's works: evocative novels that lift readers straight into another time and place to smell the sea, feel the castle walls, see history and sense every emotion. These are marks of a fantastic storyteller. 4 1/2 Stars, Top Pick of the Month" - RT Book Reviews
"Skillful writing and research... Readers will not be disappointed in Sophia's enthralling story. Highly recommended." -
Historical Novels Review
"An excellent "time-travel" story with alternating chapters set in modern time and in the past. I would definitely recommend this book to those who love an epic story rich in historical detail. " -
In the Hammock
"A wonderful book to escape into for a couple of days with fabulous characters, and an engaging story." -
In Spring it is the Dawn
"A well written, engaging historical novel with a dash of romance... it's a page turner. " -
A Work in Progress
"The rich history and the historical aspect of this novel made it a book that was hard to put down. " -
The Romance Studio
"Beautiful, clear writing, a believable storyline, adventure and romance." -
Bookfoolery and Babble
"A breathtaking novel... Kearsley's writing style beautifully spells out the mood for this novel. " -
Luxury Reading
"Marvelous and flawless... " - Read All Over Reviews
"One of the most enchanting romance novels of the decade, The
Winter Sea
will find a home on everyone's bookshelf. " -
Romance Fiction on Suite101.com
"The story was deliciously romantic and the writing style matched the brooding, haunting tale very well. Definitely well worth reading!" - All About Romance
"A creative tour de force... Brilliant!" -
New York Journal of Books
"The
Winter Sea
is one of those novels that a reader doesn't come across too often." -
Midwest Book Review
"Scotland past and present comes vividly alive in this superior piece of historical fiction - the rugged countryside, salty sea air and rich heritage are the perfect setting for this tale of love, loss and destiny. " -
Thoughts From Lady Tess
"This is historical fiction at its best!" -
Library of Clean Reads
"Each page I devoured only made me want to read the next one and the next one... highly engaging. " -
The Royal Reviews
"Absolutely phenomenal... A stunning, gorgeous and heart-wrenching tale. " -
Psychotic State
"The
Winter Sea
was an emotionally poignant, gripping tale of adventure both in the past and the present with characters full of life, and conflicts that tug at the heart strings. A definite read!" -
History Undressed
"If you are a fan of Mary Stewart and Barbara Erskine, this is a must for your bookcase." -
Celtic Lady's Reviews
"Vivid... One of those books that you remember long after the last page has been turned." -
Debbie's Book Bag
"What a gifted writer Ms. Kearsley is! This is one book that I wish had gone on... T" -
Books by the Willow Tree
"This book had it all: romance, intrigue, mystery, historical fiction, kick-ass location, and a storyline that made me not want to put the book down." -
Life in the Thumb
Sourcebooks Landmark, 9781402241376, 544pp.
Publication Date: December 1, 2010
About the Author
New York Times, USA Today, and Globe and Mail bestselling author Susanna Kearsley is a former museum curator who loves restoring the lost voices of real people to the page, often in twin-stranded stories that interweave present and past. Her award-winning novels have been published in translation in more than 25 countries. She lives near Toronto.