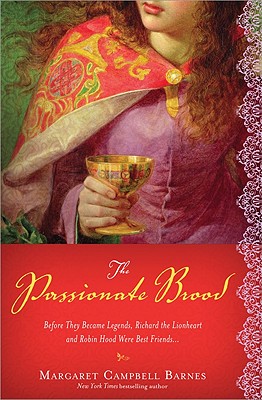 The Passionate Brood (Paperback)
A Novel of Richard the Lionheart and the Man Who Became Robin Hood
Sourcebooks Landmark, 9781402242052, 350pp.
Publication Date: October 1, 2010
* Individual store prices may vary.
Description
A Spirited Retelling of King Richard the Lionheart and the Third Crusade
"Margaret Campbell Barnes has been one of the most reliable of England's historical novelists." --Chicago Tribune
In this compelling novel of love, loyalty, and lost chances, Margaret Campbell Barnes gives readers a new perspective on Richard the Lionheart's triumphs and tragedies. Drawing on folklore, Barnes explores what might have happened if King Richard's foster brother were none other than Robin Hood, a legendary figure more vibrant than most in authentic history. Thick as thieves as Richard builds a kingdom and marshals a crusade, the two clash when Robin Hood so provokes the king's white hot temper that Richard banishes him. The Passionate Brood is a tale of a man driven to win back the Holy Land, beset by the guilt of casting out his childhood friend, and shouldering the burden of being the lionhearted leader of the Plantagenets.
Praise for Margaret Campbell Barnes
"Barnes vividly depicts Anne's hopes and fears in an age where royal marriages were brokered like a cattle fair, and beheading could befall even a Queen." --Publishers Weekly on Brief Gaudy Hour
"Rich in detail and flows beautifully, letting readers escape into Anne's court and country life. It is a must read for those who love exploring the dynamic relationships of Henry VIII and his wives."--Historical Novels Review on My Lady of Cleves
About the Author
New York Times bestseller Margaret Campbell Barnes, now deceased, wrote several historical novels, including Brief Gaudy Hour, My Lady of Cleves, King's Fool, The Tudor Rose, Within the Hollow Crown, With All My Heart, Isabel the Fair, The King's Bed, Lady on the Coin, and Mary of Carisbrooke. Her novels have sold more than 2 million copies worldwide.
or
Not Currently Available for Direct Purchase