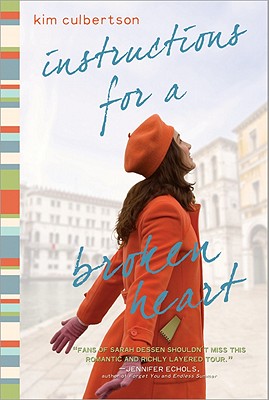 Instructions for a Broken Heart
Paperback

* Individual store prices may vary.
Description
Top 20 Reasons He's a Slimy Jerk Bastard
Jessa: To help you get over your train wreck EX, I've enclosed 20 envelopes. Each one has a reason why Sean is a jerk and not worth the dirt on your shoes. And each one has an instruction for you to do one un-Jessa-like thing a day. NO CHEATING!
Ciao! —C
When Jessa catches her boyfriend, Sean, making out with Natalie "the Boob Job" Stone three days before their drama club's departure to Italy, she completely freaks. Stuck with a front-row view of Sean and Natalie making out against the backdrop of a country that oozes romance, Jessa promises to follow all of the outrageous instructions in her best friend's care package and open her heart to new experiences. Enter cute Italian boy stage left.
Jessa had prepared to play the role of humiliated ex-girlfriend, but with Carissa directing her life from afar, it's finally time to take a shot at being a star.
"Instructions for a Broken Heart transported me—to Italy, back to high school, to the wrench and ache of a first breakup and the exhilaration of self-discovery…with multifaceted characters and realistic complexities, this unforgettable novel is a journey I'm so glad to have taken."
—Eireann Corrigan, author of Accomplice
Praise For Instructions for a Broken Heart…
"Culbertson balances the story between teen angst and a nice Italian travelogue. The author has a flair for evocative descriptions. . . The major strength here is in the literary quality of the writing, although teens may be more interested in the characters' relationship." —
Kirkus Reviews
"I really enjoyed this tale that transported me to Italy and memories of that first break-up and betrayal. Jessa is used to doing everything well. One refreshing thing about this story is her character isn't a one sided drama student that are in some other books and even on TV. No, Jessa is a multi-layered person who's struggles with Sean's betrayal and to the wrenching heartache of first love ring very true. The lush background of Italy tugs at Jessa as does the cute mysterious Italian boy who just shows up to Dylan Thomas, a boy from the other school. The letters from Carissa remind me of 13 LITTLE BLUE ENVELOPES only these instructions have Jessa do some experiences that go way out of her comfort zone. For example the whole Laundry Rule 101 that it should be a crime for an ex to wear something you bought them. What Jessa does with this one to Sean is hilarious. The romps through Italy are both touching to hilarious.Another thing I really loved was the whole kiss-a-frog-thing wasn't about finding a prince but rather that you had to follow your own share of frogs on a stick through the busy streets before you get them smashed on the cement so you can find your own way. This is in reference to their tour guide who has this frog on a stick that they all find very annoying. Jessa finds out on her journey through Italy that she has to do just that.This is a must read for fans of Sarah Dessen and those who loved Culbertson's first book SONGS FOR A TEENAGE NOMAD. This book also has some free verse poems throughout the pages. A real treat for those who need a welcomed break from all the paranormals and dystopias out there." — Young Adult Books Central
"While contemporary was never my favourite thing before, truly I'm finding a wonderful and eclectic mix of books to satiate my contemporary appetite now. Instructions for a Broken Heart doesn't have the most original of premises—cheating guy, good best friend, chance to find oneself etc.—but author Kim Culbertson has delicately balanced a strong setting, a great cast of characters and a coming-of-age story that anyone can relate to. Laugh out loud funny, tender and sweet, Instructions for a Broken Heart is one of those books that makes me feel like the character might just be me or my best friend.The strongest part of Instructions for a Broken Heart was the main character, Jessa, in my humble opinion. It is so easy to draw a character that becomes weak and spineless in her situation, but Jessa's personality was perfectly played. She hesitates, she's flawed and she has self-doubt, but it's not in the crippling 'woe is me' sense of the word. Jessa wants to find happiness and she wants to have a great time in Italy. The way the list gives her a chance to step outside herself, introduce a cast of fantastic secondary characters and show us a world of adventure was a skill in and of itself, making me enjoy and relate to Instructions for a Broken Heart that much more.All in all, Instructions for a Broken Heart was a sweet, heartfelt and extremely approachable book. It exceeded my expectations, which were already high. I give it a strong 4.5 out of 5, and I'd recommend it to fans of YA, especially those who enjoy contemporary fiction." — i swim for oceans
"There seems to be just the right amount of drama amongst the characters without being contrived. This is a quick read that moves at a rapid pace...The book will circulate well in libraries that have a strong following of teen romance and teen angst novels." —
Library Media Connection
"I definitely recommend this book for those who like realistic chick-lit and books by Sarah Dessen. Jessa was a mess at the beginning of the book, and grew into an entirely new person by the end. Speaking of which, the ending I didn't see coming at all! There were two or three twists in the story, and I was literally smiling on the last page. Everything just worked out so perfectly, yet it wasn't cheesy or unrealistic! You'll just have to read the book to find out what I mean..." —
Books Obsession
"Kim Culbertson has an incredible talent for writing a beautiful coming of age stories filled with wonderful accompaniment as well. Through the Broadway show tunes many readers have grown up with or are now becoming acquainted with in it's recent popularity,
Instructions for a Broken Heart
has not only background music but background memories to accompany it. As a teen who grew up around the high school theater kids and remembers those songs after playing them over and over in the orchestral pit the music was a welcome stroll down memory lane, one that connected me to Jessa and her story completely.
Instructions for a Broken Heart
is set in the beautiful cities of Italy and will no doubt have Chick Lit fans swooning with each setting along Jessa's trip. Learn what it takes to be the person you truly are inside by following a few
Instructions for a Broken Heart
." —
Chick Lit Reviews
"
Instructions for a Broken Heart
may not be for everyone, but I did like it. Jessa was a unique character who was dealing with a lot and learned a lot about herself and those around her over the course of the book. The scenery described in Italy was amazing and I liked imaging the different places Jessa and the rest visited. Kim Culbertson is a talented writer, and I do recommend both this and Songs of a Teenage Nomad." —
The Book Scout
Sourcebooks Fire, 9781402243028, 304pp.
Publication Date: May 1, 2011
About the Author
Kim Culbertson has taught high school English, creative writing and drama for over ten years in both public and private schools and sees her writing as an extension of her teaching. She lives in the Northern California foothills with her husband and daughter, where she loves to drink coffee and look at the clouds.
or
Not Currently Available for Direct Purchase