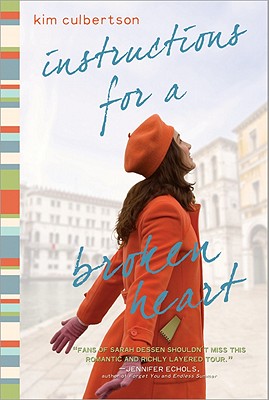 Instructions for a Broken Heart (Paperback)
Sourcebooks Fire, 9781402243028, 304pp.
Publication Date: May 1, 2011
* Individual store prices may vary.
Description
Top 20 Reasons He's a Slimy Jerk Bastard
Jessa: To help you get over your train wreck EX, I've enclosed 20 envelopes. Each one has a reason why Sean is a jerk and not worth the dirt on your shoes. And each one has an instruction for you to do one un-Jessa-like thing a day. NO CHEATING
Ciao -C
When Jessa catches her boyfriend, Sean, making out with Natalie "the Boob Job" Stone three days before their drama club's departure to Italy, she completely freaks. Stuck with a front-row view of Sean and Natalie making out against the backdrop of a country that oozes romance, Jessa promises to follow all of the outrageous instructions in her best friend's care package and open her heart to new experiences. Enter cute Italian boy stage left.
Jessa had prepared to play the role of humiliated ex-girlfriend, but with Carissa directing her life from afar, it's finally time to take a shot at being a star.
"Instructions for a Broken Heart transported me-to Italy, back to high school, to the wrench and ache of a first breakup and the exhilaration of self-discovery...with multifaceted characters and realistic complexities, this unforgettable novel is a journey I'm so glad to have taken."
-Eireann Corrigan, author of Accomplice
About the Author
Kim Culbertson has taught high school English, creative writing, and drama for over ten years and sees her writing as an extension of her teaching. She lives in the Northern California foothills with her husband and daughter, where she loves to drink coffee and look at the clouds. Visit kimculbertson.com
or
Not Currently Available for Direct Purchase