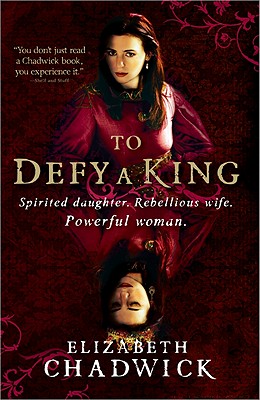 To Defy a King (Paperback)
Sourcebooks Landmark, 9781402250897, 523pp.
Publication Date: March 1, 2011
Description
An action-packed medieval novel from a
USA Today
bestselling author
Named the Historical Novel of the Year by the Romantic Novelist's Association in 2011, To Defy is King is a riveting novel of family loyalty and betrayal, featuring the daughter of William Marshal-one of Chadwick, and history's, most beloved characters.
The spirited daughter of England's greatest knight, Mahelt Marshal, lives a privileged life. But when her beloved father falls out with the volatile and dangerous King John, her world is shattered.
The king takes her brothers hostage and Mahelt's planned marriage to Hugh Bigod, son of the Earl of Norfolk, takes place sooner than she expected.
Mahelt and Hugh come to care for each other deeply, but Hugh's strict father clashes with the rebellious Mahelt. When more harsh demands from King John threaten to tear the couple's lives apart, Mahelt finds herself facing her worst fears alone. Caught between the family she was born in and the family she married into, Mahelt is uncertain if she-or her marriage-will survive.
Written with vivid detail and great historical accuracy, To Defy a King is an immersive historical novel of Medieval England. Fans of Philippa Gregory, Alison Weir, Sharon Kay Penman, and Bernard Cornwall will take pleasure in this well-crafted story of a vibrant, noble woman in a tyrant's world.
More Medieval Historical Fiction Titles from Elizabeth Chadwick:
Lady of the English- A medieval battle of the sexes
The Greatest Knight-the seldom told story of the Greatest Knight of the Middle Ages
The Summer Queen -a novel of Eleanor of Aquitaine
What readers are saying about To Defy a King
"This is truly historical fiction at its finest."
"An enthralling historical fiction novel with superb characters and a remarkable story."
"I cried and laughed and could not stop reading, which is the formula for a five star novel for me "
What reviewers are saying about To Defy a King
..".juicy chunks of violent medieval history you can enjoy in the climate-controlled safety of your own home." -USA Today
"The characters are wonderful - fleshed out, individual, not stereotypical and graceful. The blend of action scenes and emotional scenes are well balanced."-The Maiden's Court
"Not only will you feel as though you are really in the story, but you will gasp in shock, smile, chuckle here and there, and at one point, shed a tear or two."-Book Babe
What people are saying about bestselling author Elizabeth Chadwick
"A star back in Britain, Elizabeth Chadwick is finally getting the attention she deserves here." - USA Today
"Elizabeth Chadwick is to Medieval England what Philippa Gregory is to the Tudors and the Stuarts, and Bernard Cornwall to the Dark Ages."-Books Monthly, UK
"The best writer of medieval fiction currently around." -Historical Novels Review
"Chadwick is an icon for the historical fiction community for her ability to create a believable and passionate story based around major events of the era."-The Burton Review
"Breathing life into historical personages is hallmark Chadwick."-RT Book Reviews
"Picking up an Elizabeth Chadwick novel is like having a Bentley draw up at your door: you know you are in for a sumptuous ride." -Daily Telegraph
About the Author
Elizabeth Chadwick is the author of 17 historical novels, including The Greatest Knight, The Scarlet Lion, A Place Beyond Courage, For the King's Favor, Shadows and Strongholds, The Winter Mantle, and The Falcons of Montabard, four of which have been shortlisted for the Romantic Novelists' Awards. Visit www.elizabethchadwick.com
Advertisement