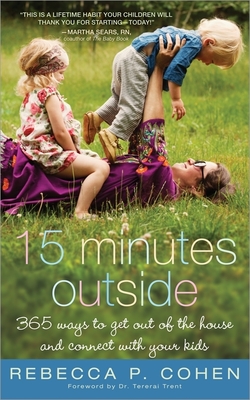 Fifteen Minutes Outside: 365 Ways to Get Out of the House and Connect with Your Kids (Paperback)
365 Ways to Get Out of the House and Connect with Your Kids
Sourcebooks, 9781402254369, 228pp.
Publication Date: March 1, 2011
Description
What if you got outside every day, and what if you could get your kids to come along? It sounds modest, but the effects, as dynamic outdoor spokesperson Rebecca Cohen herself can testify, are profound. This inspiring collection of activities gives families an idea for every day of the year, requiring little planning, no expertise and relatively little resources (time, cash, or patience ), no matter where they live. Simple and inspiring, this book is bursting with hundreds of easy ways to get your family out into nature a little bit every day.
About the Author
Rebecca P. Cohen is a gardening and outdoor lifestyle expert whose mission is to inspire people to get off the couch and discover how simple it can be to incorporate an active, outdoor lifestyle into a busy schedule. The mother of two small children, Rebecca incorporates the outdoors into every aspect of life, bringing invaluable tips and inspiration into her product lines, television segments, and website, rebeccaplants.com. Rebecca is the National Wildlife Federation's Be Out There Spokesmom."
Advertisement