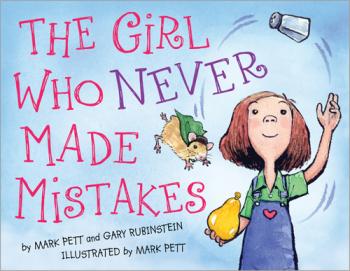 The Girl Who Never Made Mistakes (Hardcover)
Sourcebooks Jabberwocky, 9781402255441, 32pp.
Publication Date: November 4, 2011
Description
Beatrice Bottomwell has NEVER (not once ) made a mistake... Meet Beatrice Bottomwell: a nine-year-old girl who has never (not once ) made a mistake. She never forgets her math homework, she never wears mismatched socks, and she ALWAYS wins the yearly talent show at school. In fact, Beatrice holds the record of perfection in her hometown, where she is known as The Girl Who Never Makes Mistakes. Life for Beatrice is sailing along pretty smoothly until she does the unthinkable-she makes her first mistake. And in a very public way "The Girl Who Never Made Mistakes is a must read for any young (or old ) perfectionist. Beatrice Bottomwell is perfectly imperfect "
-Stephanie Oppenheim, Oppenheim Toy Portfolio "Beatrice offers a lesson we could all benefit from: learn from your mistakes, let go, laugh, and enjoy the ride."
-JENNIFER FOSBERRY, New York Times bestselling author of My Name Is Not Isabella.
About the Author
Writer and illustrator Mark Pett lives in Mississippi with his wife, two children, and a very old dog named Catfish. Every February, the family draws five random digits from a hat and travels to whatever zip code it makes. He has illustrated several books and is the creator of the syndicated comic strips Mr. Lowe and Lucky Cow. Gary Rubinstein teaches high school math by day and is occasionally a comedian by night. In addition to co-authoring this book, he has written two guidebooks for new teachers. He lives in New York City with his wife, Erica, and his daughter, Sarah.
Advertisement