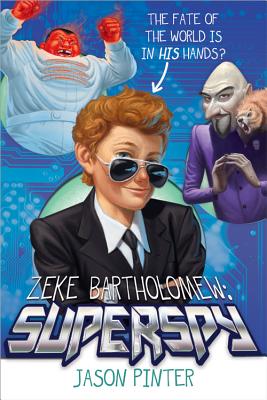 Zeke Bartholomew (Paperback)
Superspy!
Sourcebooks Jabberwocky, 9781402257551, 231pp.
Publication Date: November 1, 2011
* Individual store prices may vary.
Description
It all started on a day like any other. (Now I gotta deal with this guy) The sun rose. I had waffles for breakfast. I caught my dad SCRATCHING HIS BUTT. It
was a rerun of pretty much every day of my life. But late that night, EVERYTHING CHANGED... One minute I'm digging through my neighbor's garbage looking for clues (long story), and the next minute I'm KIDNAPPED BY GOONS and MISTAKEN FOR A SPY. (Not to mention this guy) You might think everything I'm about to tell you is a big lie. But I promise you that THIS IS ALL
TRUE. This is how the fate of the world fell into the hands of an UNIMPORTANT DORKY KID FROM NOWHERESVILLE.

About the Author
Jason Pinter is the author of five novels with 1.5 million copies in print in many languages, most of which he cannot read. As a child, he was only slightly less qualified to be a spy than Zeke Bartholomew. You can find him living in New York City buried under a pile of books. This is his first juvenile fiction book.
or
Not Currently Available for Direct Purchase