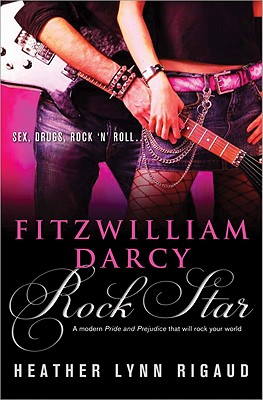 Fitzwilliam Darcy, Rock Star
Paperback

* Individual store prices may vary.
Description
Darcy's as hot as he is talented...
Fast music, powerful beats, and wild reputations—on and off stage—have made virtuoso guitarist Fitzwilliam Darcy's band into rock's newest bad boys. But they've lost their latest opening act, and their red-hot summer tour is on the fast track to disaster. Now Darcy and bandmates Charles Bingley and Richard Fitzwilliam are about to meet their match...
But she's about to rock his world...
Enter Elizabeth Bennet, fiercely independent star of girl-band Long Borne Suffering. Elizabeth, her sister Jane, and friend Charlotte Lucas have talent to spare and jump at the opening band slot. Elizabeth is sure she's seen the worst the music industry has to offer. But as the days and nights heat up, it becomes clear that everyone is in for a summer to remember.
What readers say:
"An amazing writer... a magical ride."
"An absolutely wonderful, funny, sexy, realistic, beautifully written story."
"Thank you for the wild, touching, raunchy, sweet, sexy, witty, intelligent, down-and-dirty ride."
"Amazing characters and absolutely fascinating plot! I'm still breathless after reading it."
Praise For Fitzwilliam Darcy, Rock Star…
"Steamiest: "
Fitzwilliam Darcy, Rock Star
" by Heather Lynn Rigaud" -
Chicago Tribune
"I was morbidly curious as to how well Darcy, the epitome of gentleman in my book, could be turned into a rock star and if it would translate well to a novel. Turns out, pretty damn well on all counts. " -
Books like Breathing
"All in all,
Fitzwilliam Darcy, Rock Star
is poised to introduce the timeless themes of Pride and Prejudice to an all-new audience that can perhaps relate more closely to the modern setting. " -
The Writer's Closet
"Fitzwilliam Darcy Rock Star by Heather Lynn Rigaud is a whirlwind of emotions, sex, and satisfaction." -
Savvy Verse & Wit
"A fun alternative to Regency based P&P variations. Recommended if you like Rock & Roll & Sex!" -
Love Romance Passion
"Yes, you read that right, Pride and Prejudice plus sex, drugs, and rock 'n' roll. Such is the premise for Fitzwilliam Darcy: Rock Star, the innovative, contemporary retelling of P&P by author Heather Lynn Rigaud." -
Austenprose
"I'm a big fan of "Pride & Prejudice" by Jane Austen and enjoy reading retellings of it, of course not all work for me however "Fitzwilliam Darcy; Rock Star" did. I enjoyed the mix of the "old" characters in a new setting & time and think that the author did a great job with writing her own modern, rock star version of "Pride & Prejudice" -
About Happy Books
"I really enjoyed this one and would love to see the author do another rock star take on a classic!
" - Bookhounds
"If you can handle the rock lifestyle, prepare yourself for a spicy, hot read!" -
One Literature Nut
"This is really a must read for fans of the original story who really are up to something updated and modern but with the same heart as Pride and Prejudice. " -
A Curious Statistical Anomaly
"You will definitely enjoy it! " -
Royal Reviews
"
Fitzwilliam Darcy, Rock Star
is a fresh take on Austen's famed and beloved characters, set in the wild world of the music industry bringing a highly entertaining aspect to this modern retelling. If you love the two, this mash up is for you. " -
A Life Bound by Books
"WOW!
Fitzwilliam Darcy, Rock Star
has to be one of the sexiest Austenesque novels I have ever read! With a smoldering Darcy, a playboy Richard Fitzwilliam, and a tender Charles Bingley, Slurry is one hot trio and I completely fell in love with each of them! " -
Austenesque Reviews
"Heather Lynn Rigaud put an interesting spin on things and I for one loved thinking about Darcy shirtless wearing a pair of leather pants! Rock on!" -
Hanging with Bells
"Rigaud presents a witty, riveting, and sexy retelling of Pride and Prejudice in her debut novel, originally self-published as Slurry. Sex, drugs, and rock 'n'roll go surprisingly well with this retelling of Austen's classic. " -
Publishers Weekly
Sourcebooks Landmark, 9781402257810, 432pp.
Publication Date: September 1, 2011
About the Author
Heather Lynn Rigaud spends much of her time thinking about how Regency-era characters would exist now, and how a wife and mother would have lived in the past. She is a professional writer with degrees in music therapy and teaching who lives with her husband and two sons in Kingston, New York.
or
Not Currently Available for Direct Purchase