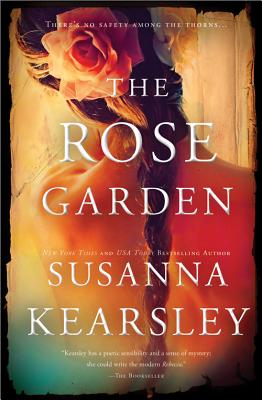 The Rose Garden
Paperback

* Individual store prices may vary.
Other Editions of This Title:
Hardcover, Large Print (7/20/2016)
Paperback, Large Print, Large Print (5/1/2011)
MP3 CD (12/2/2014)
Hardcover (5/1/2011)
Description
NEW YORK TIMES AND USA TODAY BESTSELLER
"I've loved every one of Susanna's books She has bedrock research and a butterfly's delicate touch with characters--sure recipe for historical fiction that sucks you in and won't let go "--DIANA GABALDON, #1 New York Times bestselling author of Outlander
A riveting and romantic journey through time, The Rose Garden drops a modern woman into the middle of a historical fiction novel when she's thrown back to 18th century Cornwall--only to find that might just be where she belongs.
After the death of her sister, Eva Ward leaves Hollywood and all its celebrities behind to return to the only place she feels she truly belongs, the old house on the coast of Cornwall, England. She's seeking comfort in memories of childhood summers, but what she finds is mysterious voices and hidden pathways that sweep her not only into the past, but also into the arms of a man who is not of her time.
Soon Eva discovers that the man, Daniel Butler, is very, very real and he draws her into a world of intrigue, treason, and love. Inside the old British house, begins to question her place in the present, she realizes she must decide where she really belongs: in the life she knows or the past she feels so drawn towards.
A brilliant escape that gives one woman the chance to time-travel and find her place in British history, The Rose Garden presents Susanna Kearsley's signature combination of romance and fascinating historical fiction at its very best.
Also by Susanna Kearsley:
The Winter Sea
The Firebird
A Desperate Fortune
Named of the Dragon
The Shadowy Horses
The Splendour Falls
Season of Storms
Mariana
Bellewether
Sourcebooks Landmark, 9781402258589, 441pp.
Publication Date: October 4, 2011
About the Author
Susanna Kearsley's writing has been compared to Mary Stewart, Daphne du Maurier, and Diana Gabaldon. Her books have been translated into several languages, selected for the Mystery Guild, condensed for Reader's Digest, and optioned for film. She lives in Canada, near the shores of Lake Ontario.
The first known time-travel story appeared in the year 720, in a Japanese book called the Nihongi, and many other writers since then have explored the concept. What do you think is the reason for the enduring appeal of time-travel stories?
Stephen Hawking, in his essay "How to Build a Time Machine," says: "Time travel was once considered scientific heresy. I used to avoid talking about it for fear of being labeled a crank. But these days I'm not so cautious… I do believe in time travel." Does knowing that noted physicists like Hawking accept the fact of time as a fourth dimension make the whole idea of time travel seem more believable to you, or do you feel it's all a fantasy?
One of the reasons that some scientists, including Hawking, think that time travel to the past is less likely to happen and more problematic than travel to the future, has to do with paradoxes and the problems they create: the chance that a time traveler might meet a former version of himself or somehow change the way the future is meant to happen. In The Rose Garden, Daniel dismisses this idea outright. His view is that nothing Eva does in the past can change the future, and her own experience seems to bear this out. What did you think of this departure from the usual rules of time travel? How did you feel about Daniel's belief that our lives are predestined, that what happens to us is just meant to happen?
Fergal says of Daniel: "Knowing that the battle will not end the way he wishes does not make it any less worthwhile to fight." Daniel stays committed to his cause and to his kinsmen, even though it puts himself and those he loves in harm's way. Do you find this noble or naive?
In the past, Fergal steps in to become Eva's mentor and confidant. Which character do you think fills these roles in the present?
Even though she knew what Eva was going through, Claire purposely stayed out of things and didn't interfere. Do you think she took the right approach? Is there any way she could have made things easier for Eva? How might the story have changed if she'd been more involved?
What moment in your own family history would you like to witness, if you could?
Katrina remains an unseen extra character throughout the story. How do you think she influences Eva's actions, and where did you sense this most strongly?
Eva's appearance is never described in the novel, except for the length of her hair. Did you notice this? Did it affect your ability to "see" her? Why do you think that the author chose not to describe her?
The love scenes in this book (and in all of Susanna Kearsley's books) are decidedly G-rated. Do you like this approach, or do you prefer the bedroom door to be left open? Can a love story with no sex still be sexy?
The historical account of the attempt to raise a Jacobite rebellion force in Cornwall is true, and the events of the past story are played out against an actual historical timeline, even using some real people, like the traitorous Colonel Maclean. Does it change the way you read a story when you know that some of the events really happened? Do you find it a strength or a weakness in fiction?
Do you think historical fiction is a valid and useful way of learning about history? Were there any bits of history you learned from this book that you didn't know before?
Apart from her feelings for Daniel, why do you think Eva felt more at home in the past than the present? Did you notice any differences in the way she fit into or was treated in the two different Trelowarths?
At the end of the book, Eva is very certain and confident that she and Daniel will be able to build a life together in the past. Do you share her confidence? What qualities do you think she and Daniel each bring to the relationship that will help make it a success?
What do you think is likely to be the biggest challenge for Eva in her new life; the biggest adjustment she'll have to make? What would you find most difficult about living in the early 18th century?