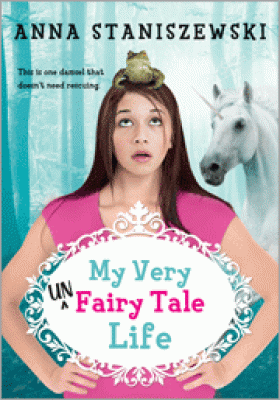 My Very UnFairy Tale Life
Paperback

* Individual store prices may vary.
Description
A humorous tale where a bold and spunky girl ends up the one saving "Prince Charming"
You know all those stories that claim fairies cry sparkle tears and elves travel by rainbow? They're lies. All lies.
I've spent my life as an official adventurer. I travel across enchanted kingdoms saving magical creatures and fighting horrible beasts that most of you think are only myths and legends. I've never had a social life. My friends have all forgotten me. And let's not even talk about trying to do my homework. So—I'm done!! I'm tired and I want to go back to being a normal girl. But then along comes "Prince Charming" asking for help, and, well, what's a tired girl like me supposed to do?
"Jenny is an adventurer I'd definitely want in my corner if my life ever took a wrong turn from Happily Ever After."—Hélène Boudreau, author of Real Mermaids Don't Wear Toe Rings
"Readers will laugh their way through the ups and downs of Jenny's many (mis)adventures."—Jennifer A. Nielsen, author of Elliot and the Goblin War
Praise For My Very UnFairy Tale Life…
"Wow, what a fun middle grade novel with fantastic characters, an amazing and witty main character and a magical plot.. Jenny's voice is pitched perfectly for the book's intended audience and her magical problems reflect the real world problems that 9-12 year olds face every day. A very different but original and recommended read!" — Marjolein Bookblog

"Anna Staniszewski creates a magical world that's totally relatable. You'll find yourself wishing you were alongside Jenny fighting against unicorns (who aren't as peaceful as you think) and traveling to fantastical realms." — GirlsLife.com

"Part of the genius behind Anna's premise is that middle readers who like and middle readers who don't like traditional fairy tales will both enjoy it. It's a great middle ground that celebrates the spirit of fairy tales while turning them on their heads.

If your middle reader is looking for a fast-paced and humorous read, this quirky book is a great option." — Cracking The Cover
Sourcebooks Young Readers, 9781402259463, 208pp.
Publication Date: November 1, 2011
About the Author
Anna Staniszewski lives outside of Boston with her husband and an adorably crazy dog. She was named the Boston Public Library's 2006-2007 Writer-in-Residence and a winner of the 2009 PEN New England Discovery Award. When she's not writing, Anna spends her time teaching, reading, and not cleaning her house. Visit her at www.annastan.com.
or
Not Currently Available for Direct Purchase