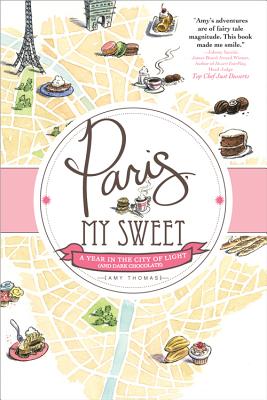 Paris, My Sweet (Paperback)
A Year in the City of Light (and Dark Chocolate)
Sourcebooks, 9781402264115, 304pp.
Publication Date: February 1, 2012
* Individual store prices may vary.
Description
"From the New York cupcake wars to the perfect Parisian macaron, Thomas's passion is palpable, her sweet tooth, unstoppable."--Elizabeth Bard, bestselling author of Lunch in Paris
Forever a girl obsessed with all things French, sweet freak Amy Thomas landed a gig as rich as the purest dark chocolate: leave Manhattan for Paris to write ad copy for Louis Vuitton. Working on the Champs-elysees, strolling the charming streets, and exploring the best patisseries and boulangeries, Amy marveled at the magnificence of the City of Light.
But does falling in love with one city mean turning your back on another? As much as Amy adored Paris, there was part of her that felt like a humble chocolate chip cookie in a sea of pristine macarons. PARIS, MY SWEET explores how the search for happiness can be as fleeting as a salted caramel souffle's rise, as intensely satisfying as molten chocolate cake, and about how the life you're meant to live doesn't always taste like the one you envisioned.
Part love letter to Paris, part love letter to New York, and total devotion to all things sweet, PARIS, MY SWEET is a treasure map for anyone with a hunger for life.
"Like a tasty Parisian bonbon, this book is filled with sweet surprises."--David Lebovitz, New York Times bestselling author of The Sweet Life in Paris
"Amy Thomas seduces us in the same manner that Paris seduced her --one exquisite morsel at a time."--Nichole Robertson, author of Paris in Color.
About the Author
Amy Thomas is a New York based writer who, for two lucky years, got to call Paris home. In addition to working as a copywriter in advertising, she writes about food, travel, design, and fashion for various publications such as the New York Times, National Geographic Traveler, Town & Country, and Every Day with Rachael Ray. She is slightly obsessed with sweets.
Never judge a bonbon by its chocolaty shell…Which chocolatier, bakery, or café in your hometown most surprised you? Do you have a "diamond in the rough" bakery in your hometown, or a locals-only café?
What is the best place in your town to get bonbons? Is it possible for everyone in your book club to come to an agreement about one place?
A couple of years ago, cupcakes become the newest sensation in the world of sweets; what do you think is especially popular in your hometown? What has been on your must-have sweet list recently?
Do you have a bakery in your hometown that specializes in cupcakes? What is your favorite/least favorite flavor? What features does a "great" cupcake have in comparison to a "just okay" cupcake? Are the delicious sweets the only reason to frequent a bakery/café/chocolatier? Or are there certain features of the physical establishment (décor, location, staff, ambiance, etc.) that also influence your sweet tooth? Ask a bakery if you can take a tour of the facility, or see if they will come and talk at your book club about how they come up with different flavors. Can you and your fellow book clubbers make any flavor suggestions for the bakery?
Amy mentions that no one talks about how crazy the pigeons in Paris are; is there a local secret, quirk, trademark, or custom about your town that tourists are surprised to discover?
Just as croissants cannot be rushed, there are many great eateries that have long waits and slow service. How long would you be willing to wait for your favorite sweet from the best local bakery?
Which restaurant in your area has the best bread? What makes it better than the competition's?
The French are the undisputed masters of the croissant; is there anything that your hometown is famous for? What is it, and what makes it the best?
When you come back to your hometown after a vacation or long absence, what is the first restaurant you want to go to and why?
A sweet by any other name…Crisp, crumble, or cobbler—whatever you call it, it's always delicious! Who makes the best, messiest crumble in your hometown? Do any stores put special ingredients into their crumbles to make them stand out?
Do you have a special family recipe for crumbles? What is it? Where did the recipe originate?
Can a sweet be "imperfect" and still taste delicious?
Some expensive restaurants are worth the splurge; what are the fanciest restaurants in your neighborhood? Do they live up to their reputations?
Are you a jeans and T-shirt (home-baked, old-fashioned yellow cake with chocolate icing from the can) kind of sweet addict, or a cocktail attire (aka Pierre Hermé's exquisite cake creation) connoisseur? Does the appearance of your cake influence your overall experience of it?
Chocolate chip cookies are like baseball—the quintessential, all-American sweet.Do you have any strong or poignant memories associated with chocolate chip cookies?
Chewy or crunchy? Well done or practically cookie batter? Liberal or conservative amounts of chocolate chips? Describe your perfect chocolate chip cookie. Is it homemade? If yes, where did the recipe come from? Is it from a bakery? Which one?
Blueberry, banana, bran, chocolate chip—there are several different flavors of muffins. Does one bakery in your hometown have all the best flavors, or do you have to frequent competing bakeries depending on what flavor you're craving? Should you mess with a classic? Do you prefer a humble blueberry muffin, or the new ginormous varieties that come in flavors like cappuccino crumble?
Is there a particular bakery that has the power to lift your downtrodden spirits? What about that bakery brings a smile to your face? Have all of the bakers in your hometown gone to school specifically to become a baker? Or did their career arise out of a passion for sweets? Do you think you can tell the difference between someone who has been professionally trained and someone who has not received training?
In Paris, My Sweet, Amy mentions that English bakeries were popping up all over Paris; does your hometown have any Parisian-inspired bakeries/cafés/chocolatiers? How do you think they compare to the desserts in Paris?
Nicolas Stohrer invented the Baba au Rhum (allegedly) to please King Louis XV. Have you ever been inspired by someone to try out a brand new dessert recipe? Do you think that you have ever inspired a new dessert?
Do the bakeries/cafés/chocolatiers in your hometown draw any inspiration from elements that only locals are familiar with, whether in name or ingredients? If yes, does this make you feel more connected to that bakery/café/chocolatier?
Does your hometown have a dessert bar? What would your ideal dessert bar serve?
Have you ever moved away from your hometown? If yes, which town do you feel the most loyalty towards? Who makes the best French toast in your family? In your hometown? Do you consider French toast a breakfast food or a dessert?
Now that you've finished Paris, My Sweet, which Parisian desserts are you most interested in trying? Do you have a hometown bakery that can give you your Parisian sweet fix?