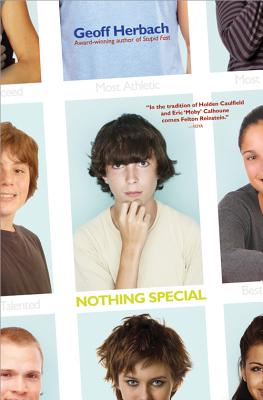 Nothing Special (Felton Reinstein trilogy)
Paperback

* Individual store prices may vary.
Description
A Stupid Number of Awards for Geoff Herbach's Stupid Fast
ALA Best Fiction for Young Adults selection
YALSA Best Fiction for Young Adults
2011 Cybils Award Winner, Young Adult Fiction
Junior library Guild Selection
ABA Best Books
Hey Aleah,
I miss you. Because there's some serious donkey crap going on right now. I'm supposed to be at football camp, but noooo ... Andrew had to go missing! So because of my stupid little brother, I'll probably lose my chance at a scholarship and end up being nothing special.
I'm pretty sure Andrew ran away to Florida, and now Gus and I have to drive cross-country to get him. Did you know Gus used to think
Miss Piggy was hot? Anyway, Andrew once told me I needed to get my head out of my butt. So that's what I'm trying to do. How about a kiss for luck?
Felton
"Readers looking for a genuinely memorable first-person narrator—in the vein of Sherman Alexie's Absolutely True Diary of a Part-Time Indian or Pete Hautman's Godless— should really catch up to Stupid Fast."—StarTribune
Praise For Nothing Special (Felton Reinstein trilogy)…
"I haven't read too many YA books told from a male perspective, and I have to say I was totally impressed with Felton's voice. The tone is conversational and funny, and Felton is an authentic and endearing character...This is a great series that teen boys especially will love." — The Reading Date

"Felton and Andrew are both appealing . . . readers who like their funny stories mixed with sports will root for the siblings' reconciliation." — Booklist

"A great male protagonist, and a fun story."- Blogger Rhiannon, The Diary of a Bookworm " — The Diary of a Bookworm

"Herbach's writing style is so much fun, and you will find yourself alternately laughing out loud, cringing, and maybe even shedding a small tear for Felton, as he comes to terms with forsaking what makes him special."- Blogger Cupcake, Cupcake's Book Cupboard " — Cupcake Book Cupboard

"Geoff Herbach brings another very uniquely written book to the table with Nothing Special. "- Blogger Lisa, Lisa's World of Books " — Lisa's World of Books

"This book blends humor with honest questions and realizations about family and life in an almost seamless way."- Blogger Jordyn, Ten Cent Notes" — Ten Cent Notes

"With this book, Herbach brings to fruition the exploration he began in the first novel of how a parent's suicide has a profound ripple effect on the lives of his family for years beyond the event. The combination of outrageous circumstances and humor expertly balances out the very serious issues of guilt, anger, and mental and emotional collapse. Felton's voice is fresh and believable as a teen on the edge of manhood. Boys especially will discover kindred spirits in Felton and Andrew. Kudos to Herbach for this deep, moving, LOL funny, and completely original story." — School Library Journal
Sourcebooks Fire, 9781402265075, 304pp.
Publication Date: May 1, 2012
About the Author
Wee Wisconsin boy, Geoff Herbach wanted to play for the Green Bay Packers or join The Three Stooges. His tight hamstrings left him only writing. Now he writes YA novels, including the award-winning Stupid Fast series, and teaches at Minnesota State, Mankato where he blows his students' minds with tales of football and comedy glory, none of which are true. Visit www.geoffherbach.com for more information about the author, his books, and much more.