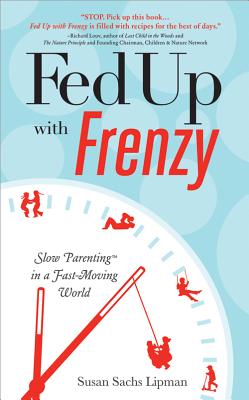 Fed Up with Frenzy
Slow Parenting in a Fast-Moving World
Paperback

* Individual store prices may vary.
Description
Slow Down. Reconnect.
It's Easier than You Think.
The hectic pace of everyday life can keep families constantly on the go, but removing some of the frenzy is easy--if you just take a moment to slow down. Hit the pause button on all of life's daily distractions and reconnect with your family in familiar and exciting ways. Parenting and family expert Susan Sachs Lipman shows you the enormous benefits of having a slower paced, more connected family. Packed with simple, affordable, and delightful games, crafts, and activities, Fed Up with Frenzy will help you spend more distraction--free time with your children. Slow down and reconnect with your family by:
- Creating your own outdoor theater
- Experimenting with kitchen science
- Playing nature games
- Making placemats from fall leaves
- And more
"Fed Up with Frenzy is a blueprint for any family that feels overwhelmed by the pace of contemporary life." --Darell Hammond, Founder and CEO, KaBOOM
"The heart of parenting is connection, but how do parents and children connect when they are going a mile a minute in different directions? Read this book, stop the frenzy, and reconnect." --Lawrence J. Cohen, PhD, author of Playful Parenting
"Fed up with Frenzy is a welcome corrective to a society that has turned childhood into a race to nowhere. With charm, energy and wit, Susan Lipman serves up a treasure trove of ideas to bring joy and sanity back to family life. Every parent needs a copy."--Carl Honor , author of In Praise of Slowness and Under Pressure
Sourcebooks, 9781402265259, 362pp.
Publication Date: August 1, 2012
or
Not Currently Available for Direct Purchase