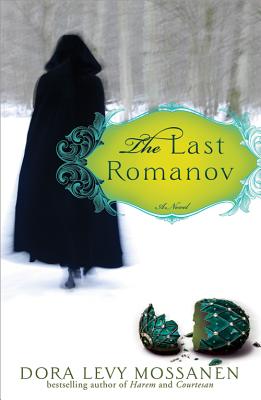 The Last Romanov
Paperback

* Individual store prices may vary.
Description
IN A TIME OF RASPUTIN'S MAGIC AND ROMANOV MYSTERY, A YOUNG GIRL FINDS HERSELF AT THE HEART OF THE ROYAL FAMILY
She was an orphan, ushered into the royal palace on the prayers of her majestry. Yet, decades later, her time spent in the embrace of the Romanovs haunts her still. Is she responsible for those murderous events that changed everything?
If only she can find the heir, maybe she can put together the broken pieces of her own past-maybe she can hold on to the love she found. Bursting to life with the rich and glorious marvels of Imperial Russia, The Last Romanov is a magical tale of second chances and royal blood.
"A master story teller at the height of her game...weaves history and magic into a riveting page-turner."--Robin Maxwell, bestselling author of Signora da Vinci and The Seceret Diary of Anne Boleyn
"This haunting tale of prophecy and redemption sweeps up into an opulent world of glamour, myth, tragedy and unforgettable humanity."--C.W. Gortner, author of The Confessions of Catherine de Medici
Sourcebooks Landmark, 9781402265945, 368pp.
Publication Date: April 3, 2012
About the Author
Born in Israel and raised in Iran, Dora Levy Mossanen fled to the United States at the onset of the Islamic Revolution. She is the recipient of the San Diego Editor's Choice award and the author of Harem and the international bestseller Courtesan, which have both been translated into numerous languages. She is a regular contributor to the Huffington Post and a graduate of the USC masters of professional writing program. She lives in Beverly Hills, California.
When we first meet Darya, we see her waking from sleep and covered in clouds of butterflies. The messenger at her door asks questions seemingly designed to let us know how others fear her—believing she is a sorceress—and are also in awe of her due to her rumored connections to a monarchy from so long ago; it seems like a fairy tale. How does this introduction set the tone of the story and present the threads of magical realism weaving through the history?
On page 19, Sabrina and Boris debate the meaning behind their daughter's golden-opal eye. Boris is certain God means to punish him for past sins, while Sabrina interprets the message as a gift, something that will "further embellish their love." Do their interpretations strike you as naïve, or wisely cautious? What did you suspect the true meaning of Darya's magical eye was at this point, having read the opening chapter?
Boris and Sabrina conceived Darya out of wedlock, and Sabrina sometimes fears her daughter will be punished for this sin. But she comforts herself in knowing that Darya was conceived in love, so believes God would only care for her and never harm her. Identify other traditions broken throughout the course of the novel, and discuss how the characters suffer or benefit from these departures.
On page 37, Mossanen writes, "The Romanov executions are regarded as a legend rather than a stain on the canvas of history." What do you think this means? How do you see this sentiment played out in the novel? Discuss the difference between these perspectives and how each might influence the Russia of Darya's old age. Can you think of other historical events that fit this characterization? What might make a people more inclined to remember something as a legend rather than "a stain on the canvas of history," or vice versa?
Born with the gift of second sight, among others, Darya sees signs everywhere. Incredibly, she finds the amulet she gave to the Tsarevich Alexei hidden within her chunk of ambergris decades later, when she splits the chunk of ambergris with the intent to bring a piece to the supposed heir. She interprets the timing of her discovery as a sign that she has finally found Alexei. What other signs occur throughout the novel, and how does Darya interpret them correctly or incorrectly? Do you think Rasputin similarly sees signs, or do you think he's the manipulative charlatan the rebels purport him to be?
When Darya first asks the Empress for permission to bring Rasputin to court, Alexandra rejects the idea, claiming on page 80, "We will put our trust in the Lord. He will heal my son." Why does Darya want to bring Rasputin to see the Imperial Family? What finally makes it possible for her to do so—and why isn't she thrilled with the prospect? Describe the complicated relationship Darya and Rasputin share at the Romanov court, and discuss their feelings for one another.
According to Darya, popular gossip and political intrigue paint Rasputin as responsible for the destruction of the Romanov's three-hundred-year-old dynasty, and yet when we see him with the Romanovs, he seems like a friendly monk, even if he is unaware of court protocol. Why does the Empress tolerate Rasputin, given her evident disgust with his lack of manners and general crudeness? What makes the Tsar banish Rasputin from court, and why does he later invite the monk to return?
Darya is dubious about helping the Romanovs establish the Artists' Salon at court. What does she worry will happen? Does she think she made a mistake in her choice of artists? Do you think she made a mistake? What would you have done in her place? Identify the many enemies Darya and the Romanovs have lurking in court, and discuss their motives. Do you think the Salon helped or hindered the Romanovs' slow slide into disgrace?
Rasputin recognizes White Thighs Paulina, the whore Avram uses as a model for his virgin and child portrait of the Tsarina and the Tsarevich. When Darya confronts Avram, he swears he used Paulina as a model because she had the right look. Did you believe him? Does Darya? Discuss the role of this portrait in Mossanen's version of the Romanovs' downfall. Which other portraits claim important roles in the story? How does art influence the events of the novel?
Though the Tsar would dismiss Avram, a Jew, from his court, Alexandra won't hear of it, certain Avram's painting of the Tsarevich keeps the poor boy healthy. Darya continues her secret relationship with Avram, also despite his being Jewish, for six years. Why doesn't she leave with Avram, or simply break it off if she fears her own disgrace? What ultimately causes him to leave her? Discuss the ways she and Avram influence one another throughout the novel.
Though there are hints all along that Darya's gifts are magical in nature, it isn't until Rasputin finally gets to put her in a trance that we learn the true origin of her strange abilities. Did you suspect Darya's secret past? Did this information change how you feel about her and her attachment to Alexei? Why or why not? Compare and contrast the details of her past life with her current one.
There are many dramatic turning points for the Romanovs and for Darya in The Last Romanov. What moment does Darya pinpoint as the moment Russia loses her soul? What relation does this event have to the crack in her opal eye and the unfolding of her own future? What ultimately heals her eye?
Finally, after years of searching, Darya receives word that an heir to the Romanov Empire has been located by the Russian Nobility Association. But when they bring her to meet him, she's dismissive. Why doesn't Darya accept Pavel, whose DNA and story reveal him as the grandson of Tsar Nicholas II? Why does Pavel, who thought to become Tsar and revive the Romanov dynasty, cave so quickly and agree to Darya's escape plan? Do you believe it's necessary for him to escape and hide, as Darya convinces him? Why or why not?
On page 195, Rasputin warns Darya that she will be forced to live life after life until she makes amends for the sins of her past self. But she counters, "This is my last life. I am a different woman now." She interprets the messages from the Ancient One as admonitions to care for the Romanov Dynasty and its young prince in particular. At the end of her life, she wonders if she has fulfilled her promise to the Ancient One and redeemed herself for Athalia's transgressions. Do you think she has? Why or why not?
How did you feel about the ending? Do you think Darya was right to dismiss Pavel? Why do you think she chooses not to announce to the world that she's finally found the Tsarevich? Why do you think Avram never told her that he'd found Alexei? What would you have done?
Who do you think is the last Romanov alluded to by the novel's title? Alexei? Pavel? Darya herself ?
or
Not Currently Available for Direct Purchase