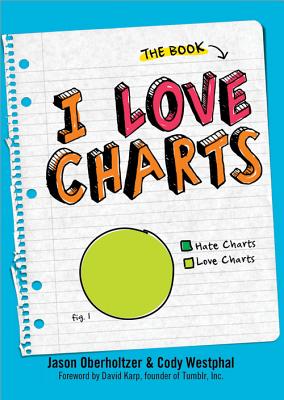 I Love Charts (Paperback)
The Book
Sourcebooks, 9781402267383, 190pp.
Publication Date: May 1, 2012
* Individual store prices may vary.
or
Not Currently Available for Direct Purchase
Description
Ever shared, laughed at, cried over, or thrown darts at a chart? Have you ever put together a report and thought, "gee, I could use a chart here." Then I Love Charts: The Book is the perfect addition to your collection. Based on the highly successful humor blog, this compilation includes the best never-before-seen charts. The book ranges across many subjects from the absurd and ironic to the starkly literal, with charts dedicated to love, the minutiae of every day life, and pop culture, as well as charts about politics, technology, and social issues.
About the Author
In September 2009, Cody Westphal and Jason Oberholtzer created I Love Charts (ilovecharts.tumblr.com) for themselves and and their friends. The website started with 7 followers on Tumblr. Since, the site has grown exponentially (with no staff, no budget, no marketing and no pandering) to over 100,000 followers on Tumblr and 22,000 on Twitter. The site that was once known to only 7 people is now frequently referenced by major internet players such as Reddit, Gizmodo, The Daily What, MetaFilter, MediaBistro, Jezebel, My Damn Channel, Kottke, Mental Floss, Very Short List, Consumerist, SlashFilm, Boing Boing, BuzzFeed, UGO, College Candy, The Cheeseburger Network and the staff of Tumblr; major media players such as The Huffington Post, NPR, AOL, Forbes, The Economist, New York Magazine, The New York Times Magazine, The New York Observer, Print Magazine, PBS, The Millions, The Daily Beast, The Atlantic, Wired, The National Post, The New Republic, Mother Jones, Lapham's Quarterly, McSweeney's, MTV, CBS News and The New Yorker; and celebrities like Chance Crawford and John Mayer. I Love Charts ranked 1st on The Huffington Post's "33 Tumblogs You Need to Follow," was chosen as the "Tumblog of the Week" by the Tumblr Staff, was named one of the "100 funniest Tumblrs...Ever" by the New York Observer, one of "The 90 Best Tumblr Blogs Of 2011" by BuzzFeed, the #3 "Tumblr You Need To Follow Right Now" by College Candy, and one of the "25 Genius Tumblrs You Should Follow" by CBS News.
Advertisement