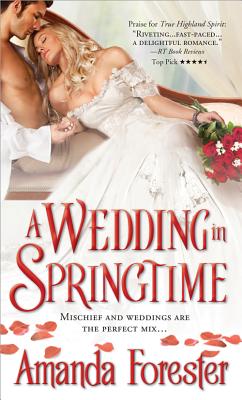 A Wedding in Springtime
Mass Market Paperbound

* Individual store prices may vary.
Description
Named one of Booklist's Top 101 Romances of the Last 10 Years "This entertaining novel is a diamond of the first order." - Booklist STARRED review
Miss Eugenia Talbot committed the grave faux pas of laughing in front of Her Majesty, if she doesn't marry at once, she may never marry at all. William Grant got her into this mess, but their ideas on how to get her out of it may differ...
Miss Eugenia Talbot's presentation to the queen is spoiled by a serious faux pas?the despicable William Grant made her laugh, right in front of Her Majesty. Now Eugenia is ruined and had better marry?someone, anyone?at once...
Roguish William Grant has never taken anything seriously in his life. Until he meets Eugenia Talbot, who makes him feel and do things he never thought he would.
Now Eugenia's great sense of humor and kindheartedness may be her undoing, unless William can help her find a husband. To his surprise, that's the last thing he wants to do...
A witty and suspenseful historical romance, fans of Sabrina Jeffries, Julia Quinn and Stephanie Laurens will love the antics and intrigues of Miss Eugenia Talbot.
Marriage Mart Series:
A Wedding in Springtime (Book 1) - A Booklist Top Romance of the last 10 years
A Midsummer Bride (Book 2) - A witty, suspenseful Regency romance
A Winter Wedding (Book 3) - A terrifically fun Regency romance of spies and brides
What readers are saying about
A Wedding in Springtime:
"historical romance at its finest "
"a delightful Regency romp with a touch of humor, passion, and mystery."
"The mystery and suspense she tangles in with the romance was like a cherry on a sundae "
"A truly delightful story full of humor"
"simply delightful with storytelling filled with charm, heart and a good dose of addictive fun."
What reviewers are saying about
A Wedding in Springtime:
"a must-read." - Publishers Weekly
"...a warm, humorous jaunt through Regency England-and she delivers with a cast of engaging characters and delightful intrigue." - RT Book Reviews
"Amanda Forester gives us likable characters, snappy dialog, and sweet, sweet romance." - Drey's Library
"To every Historical Romance lover, or just Romance lovers, this book is a must-try and should be on your TBR pile " - Proserpine Craving Books
What everyone is saying about Amanda Forester:
"Unforgettable, entertaining, and well worth the read."-Romance Fiction Suite 101, on True Highland Spirit
"Elegant writing...beautifully written dialogue and attention to detail. Enthusiasts of historical romance will undoubtedly enjoy this."-Long and Short of It Reviews, on The Highlander's Heart
Sourcebooks Casablanca, 9781402271786, 391pp.
Publication Date: May 7, 2013
or
Not Currently Available for Direct Purchase