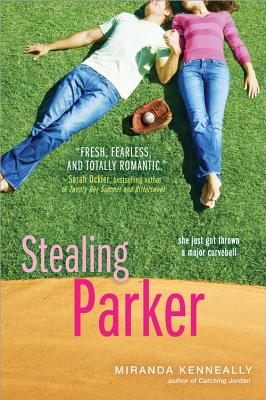 Stealing Parker (Hundred Oaks)
Paperback

* Individual store prices may vary.
Other Editions of This Title:
MP3 CD (1/20/2015)
Description
"A hero who will melt your heart."—Jennifer Echols, national award-winning author of Such a Rush
Parker Shelton pretty much has the perfect life. She's on her way to becoming valedictorian at Hundred Oaks High, she's made the all-star softball team, and she has plenty of friends. Then her mother's scandal rocks their small town and suddenly no one will talk to her.
Now Parker wants a new life.
So she quits softball. Drops twenty pounds. And she figures why kiss one guy when she can kiss three. Or four. Why limit herself to high school boys when the majorly cute new baseball coach seems especially flirty?
But how far is too far before she loses herself completely?
Praise for Catching Jordan:
"A must-read for teens! I couldn't put it down!"—Simon Elkeles, New York Times bestselling author of the Perfect Chemistry series
"With a clever, authentic voice, Kenneally proves once and for all that when it comes to making life's toughest calls-on and off the field-girls rule!"—Sara Ockler, bestselling author of Fixing Delilah
Praise For Stealing Parker (Hundred Oaks)…
"STEALING PARKER is filled with plenty of banter, cute guys, a sweet girl, and -- yay! -- a baseball-field's worth of romance." — The Book Swarm

"Miranda Kenneally is quickly becoming one of my favorite contemporary author; right up there with Jennifer Echols, Sarah Dessen, and Sarah Ockler . . Stealing Parker is another must-read from Miranda Kenneally." — Katie's Book Blog

" Stealing Parker in 5 words: Cute with a capital C!" — Once Upon a Twilight

"WOW! Stealing Parker was really, really great...I really love the authenticity and the honesty in Miranda's writing. I seriously cannot wait to read more from her." — Gone with the Words

"Miranda Kenneally, I LOVE YOU!!" — The Story Siren

"Readers of this teen novel will appreciate its realistic and witty dialogue as they navigate its tightly packed plot." — Kirkus Reviews

"I'm certain you will laugh, and I guarantee you will swoon, Sealing Parker is a fantastic companion to Catching Jordan with its own set of wonderful characters." — Xpresso Reads

"Stealing Parker had me absolutely captured in its spell – I refused to put it down until the very last page. I was sobbing and giggling and fanning myself from the swoon." — Hobbitsies

"Miranda Kenneally really knows how to hook a reader! . . . Miranda Kenneally tackles some heavy issues, but she does so with ease and charm." — YA Love Blog

"Stealing Parker is originally fresh, funny, daring, and touching with totally unforgettable characters." — Jean Book Nerd

"authentic and unique compared with the cookie-cutter teen romances. " — Bookish

"I had high expectations and wondered whether or not the author's sophomore novel would be as good as her first. Would it make my heart skip a thousand beats? The answer to this question is plain and simple. Yes...yes, yes, YES!" — Addicted to Novels

"The romance takes a more meandering route to get to its final destination, delighting us with tension while also sometimes cruelly playing with our fragile hearts to keep us coiled tight the entire time we're reading. Ms. Kenneally is quickly becoming a favorite contemporary young adult author, and I am more than eagerly anticipating what romantic roller coaster she'll take me on next." — Supernatural Snark

"Kenneally has a knack for writing authentic friendships, down to the stupid nicknames and inside jokes. I just love how real the bonds are between the characters, even the painful ones, like with Laura and Parker. . . Miranda Kenneally's books are so incredibly enjoyable." — Young Adult Books Central

"Stealing Parker is a completly addictive young adult book that had me laughing one minute and crying the next." — My Keeper Shelf

"What football is to Catching Jordan, baseball is to Stealing Jordan. One of the things I really enjoy about Miranda's books is the way she mixes together sports, with first crushes, those "fabulous" teen high school years, and the message she conveys in her books. . . .This is a fabulous companion to Catching Jordan, and much like it's predecessor I think fans will laugh, swoon a few times and find something relatable about it's main character." — Mundie Moms

"Miranda Kenneally is some kind of genius. She perfectly captures the way a teenage girl would feel and accurately depicts the adults around them." — Fictionators

"Stealing Parker was a fantastic book with all the elements I enjoy in contemporary YA. I like books with issues, but I enjoy some lighter moments as well, things that lighten up the more serious aspects. And Miranda Kenneally completely delivers!" — Candace's Book Blog

"Stealing Parker by Miranda Kenneally was a definite win. I will read anything Miranda Kenneally writes. Her stories just fascinate me. They're the kinds of books I can reread over and over and still laugh and cry with the characters and never get bored." — The Book Celler

"Kenneally has hit a home run! She uses a deft hand to deal with big issues: a complex sexual dynamic, a volatile family situation and a crisis of faith. Solidly developed and lovable characters, a complex plot and some humor make this a great read. With all the romance-based YA out there, Kenneally definitely stands apart." — RT Book Reviews

"[One] of the season's most highly anticipated titles." — Los Angeles Times

"This breezy read may speak to sports fans, reluctant readers, and girls who like forbidden love mixed with happy endings." — Booklist

"Kenneally (Catching Jordan) writes with heart, earnestly tackling such challenges as being a teen with a gay parent and being unsure of one's faith. Parker's insecurities, her desire to be loved, and her uncertainty about how far to take her steamy but illegal relationship are realistic. Not only will readers want to see Parker find true love, they'll also hope she learns to love herself." — Publishers Weekly
Sourcebooks Fire, 9781402271878, 256pp.
Publication Date: October 1, 2012
About the Author
Growing up in Tennessee, MIRANDA KENNEALLY dreamed of becoming an Atlanta Brave, a country singer (cliché!), or a UN interpreter. Instead she writes and works for the State Department in Washington, D.C., where George W. Bush once used her shoulder as an armrest. Miranda loves Twitter, Star Trek and her husband. Visit mirandakenneally.com