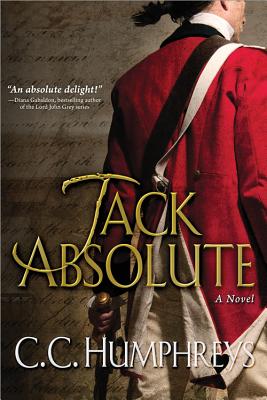 Jack Absolute
Paperback

* Individual store prices may vary.
Description
"An absolute delight ...one of the most appealing military gentlemen ever to wear a sword." -- Diana Gabaldon, Author of Outlander
The year is 1777. As the American Revolutionary War rages across the sea, London is swept off its feet by Jack Absolute, the dashing rogue in Richard Sheridan's comedy The Rivals.
When the real Jack Absolute, former captain of the 16th Light Dragoons, returns after years abroad he is immediately embroiled in an illegal duel over a backstage tryst at the Drury Lane theatre.
Jack escapes with his life, only to find himself pressed again into the King's service as a spy for the British in the Revolutionary War.
With his Mohawk blood brother, Ate, at his side--and Loyalist beauty Louisa Reardon on his mind--Jack leaves England and sets sail for the wilds of North America.
When Jack learns there is a traitor in his ranks, he is dispatched as a double agent to root out the secrets of the Illuminati, a secret lodge within the Freemasons with their own agenda in the colonies.
With no one left to trust and more blood spilling with each passing day, it's no longer clear if Jack is a spy...or the target.
From the streets of London to the bloody battlefields of Saratoga, from forest fights on the Hudson to the seedy corners of wintry Philadelphia, Jack Absolute marks the EXHILARATING BEGINNING of an epic 18th century adventure.
One of the best historical fiction novels of the Revolutionary War with a charismatic hero.
Fans of Simon Scarrow, Bernard Cornwell, Jeff Shaara and Diana Gabaldon will eagerly follow the adventures of Jack Absolute.
The Jack Absolute Series:
The Blooding of Jack Absolute, Book #1
Jack Absolute, Book #2
Absolute Honor, Book #3
What reviewers are saying about hero Jack Absolute:
"A RIP-;ROARING ADVENTURE PACKED WITH ACTION, DRAMA, AND PASSION."--Kate Mosse, author of Labyrinth
"Imagine if Dan Brown were to write historical fiction starring Robert Downey, Jr. as Sherlock Holmes...and you have this novel. " --Tara's Book Blog
"This is a ROLLICKING HISTORICAL FICTION with a larger than life figure. " --Booksie's Blog
"...heartwarming in the dash of romance it contains, but it's also hysterically funny." --Romance Junkies
"With misadventures, danger, cynicism, a bit of wit, a touch of humor, spies, war, and a bit of romance..." --My Book Addiction Reviews

Sourcebooks Landmark, 9781402280702, 276pp.
Publication Date: May 7, 2013
or
Not Currently Available for Direct Purchase