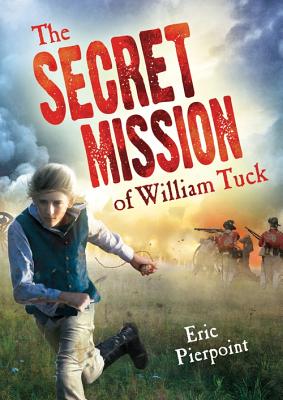 The Secret Mission of William Tuck
Paperback

* Individual store prices may vary.
Description
Can William and Rebecca distinguish friend from foe on their epic cross-colony journey to help America win the Revolutionary War?
William Tuck is set on justice. For his brother killed by British soldiers, for his friend Rebecca's father held prisoner by the redcoats, and for the countless other rebel Americans struggling beneath the crushing weight of British rule.
The whispered words of a dying soldier, and a mysterious watch, give William all the ammunition he needs; a secret message for the leader of the rebel army. Rebecca disguises herself as a boy, and she and William join the American troops. They embark on an epic journey that pulls them into a secret network of spies, pits them against dangerous gunmen, and leads them on a quest to find General George Washington himself.
Can William and Rebecca determine friend from foe long enough to deliver a message that might just change the tide of the American Revolution?
Praise for The Last Ride of Caleb O'Toole, winner of the MPIBA Reading the West Award
In this action-packed debut novel...Pierpont has created a suspenseful, enlightening read featuring worthy allies and wicked enemies.--Booklist
The fast-paced adventure serves up a hearty history lesson with side dishes of political, social and environmental commentary. Realistic and complicated characters give the familiar story of the pioneer's journey fresh life...a suspenseful adventure with heart.--Kirkus Reviews
The pace doesn't let up TV and film actor Pierpoint offers a rowdy Wild West adventure in his first book for children... Readers seeking action, history, and adventure aren't likely to mind.--Publishers Weekly
Sourcebooks Young Readers, 9781402281747, 320pp.
Publication Date: September 1, 2015
or
Not Currently Available for Direct Purchase