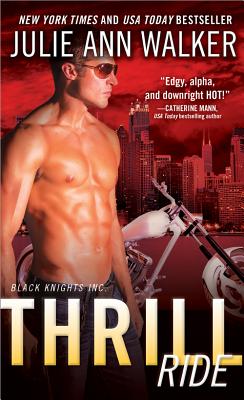 Thrill Ride (Black Knights Inc.)
Mass Market

* Individual store prices may vary.
Other Editions of This Title:
Digital Audiobook (12/19/2016)
MP3 CD (12/20/2016)
Compact Disc (12/20/2016)
Description
A New York Times and USA Today Bestseller!
"A first-rate thrill ride."—Publishers Weekly, Starred Review
HE'S GONE ROGUE
Ex-navy SEAL Rock Babineaux is as Cajun as they come—spicy, sexy, and more than a bit wicked. But would he actually betray his country? Even his best friends on the special-ops Black Knights team aren't sure they can trust him. Now the target of a massive manhunt, Rock knows the only way to protect the team—especially his partner, Vanessa—is to run...
SHE WON'T BACK DOWN
Rock might think he can outmaneuver them all, but he hasn't counted on how stubborn Vanessa Cordero can be. And she refuses to cut him loose. Sure, her partner has his secrets, but there's no one in the world she'd rather have by her side in a tight spot. Which is good because she and Rock are about to get very tight...
Black Knights Inc. Series
Hell on Wheels (Book 1)
In Rides Trouble (Book 2)
Rev It Up (Book 3)
Thrill Ride (Book 4)
Born Wild (Book 5)
Hell for Leather (Book 6)
Full Throttle (Book 7)
Too Hard to Handle (Book 8)
Wild Ride (Book 9 — coming April 2017!)
Praise for Black Knights Inc. Series:
"Julie Ann Walker is one of those authors to be put on a keeper shelf along with Nora Roberts, Suzanne Brockmann, and Allison Brennan."—Kirkus
Praise For Thrill Ride (Black Knights Inc.)…
"Julie Ann Walker is one of those authors to be put on a keeper shelf along with Nora Roberts, Suzanne Brockmann and Allison Brennan." — Kirkus Reviews

"I absolutely love Julie Ann Walker. Her stories are always addictive and packed full of heart pounding action. " — The Book Whisperer

"Julie Ann is a brilliant writer... She is amazingly gifted at pulling the reader into the story." — Night Owl Reviews

"An intriguing mix of fast-paced action and sizzling romance! Walker delivers a story that is wrought with sexual tension. " — Fresh Fiction

"Walker does an excellent job of juggling multiple POVs, including showing readers the inner thoughts and motivations of the villain. It's definitely a book that's not to be skipped! 4 1/2 Stars" — RT Book Reviews

"A wild ride that kept me on the edge of my seat and threw me curve after curve." — The Book Reading Gals

"Walker knows how to write a sizzling hero that makes you weak in the knees. " — Where's My Muse?

"An exhilarating ride full of action, romance, and lots of humorous intrigue." — Darkest Addictions

"A total adrenaline rush." — Book Lovers Inc.

"A great, fast-paced, and sexy read that lives up to its double-entendre title and to readers' expectations for Walker's books. " — Booklist

"Kept me on the edge of my seat... By far the best military romance series out right now. " — Love to Read for Fun

"An amazing, suspenseful, exciting and sexy read!" — Read-Love-Blog

"Actions send adrenaline racing and loves scenes take the breath away and inspire the imagination. Thrill Ride does indeed live up to its title." — Long and Short Reviews

"The action is gritty and the plot moves along quickly... But, it is the character development and the resulting relationships that makes Walker's Thrill Ride a thrill to read." — Heroes and Heartbreakers

"Riddled with intrigue and action. You will not want to put the book down until you finish... A Joyfully Recommended Read" — Joyfully Reviewed

"A total adrenaline rush... " — Book Lovers Inc.

" Thrill Ride certainly lives up to its name." — My House of Books

"Walker's books are always entertaining. Her characters are realistic and unique. Her sex scenes are scorching hot and very original" — Guilty Pleasures Book Reviews

"Seriously so freaking good... Julie Ann Walker did an amazing job. " — Smitten with Reading

"A fast-paced, action-packed novel with a group of characters that I am interested in getting to know better... " — Julie Reviews Books

"With all of Walker's books, I love that the plot is twisted and so complicated in nature... can't wait to see what Walker has in store for the Knights!" — The Book Pushers

"This is one series that I definitely put on my pre-order list. " — Confessions of a Toxic Friend

"Sizzling..." — Under the Covers

"Julie Ann Walker's writing is edgy, entertaining, and simply delicious to read." — Sam, E and R's Awesomness!

"Edgy, entertaining and hot! Suspense and intrigue levels are high. " — Cheshire Library Blog

"All the action and drama kept me turning the pages and totally enthralled... " — Scorching Book Reviews

"Pulse-pounding action... the perfect blend of compassion and defiance." — Gliterary Girl

"Thrill Ride lived up to it's name... a fast paced adventure romance that set my pulse pounding until the last sentence." — Ramblins from a Chaotic Mind

"Serious sexual tension and chemistry... " — Living in a Fictional World

"You will literally feel like you are trying to outrun the CIA... adventure, suspense, LOTS of hot romance..." — Book Lovin' Mamas

"Non-stop, suspenseful action all while a romance is brewing! " — Under the Boardwalk

"The buildup was great. The chemistry between a Rock and Vanessa was perfect... " — Books Like Breathing

"Fast paced and action packed. You will not go wrong with Thrill Ride." — My Book Addiction and More

"Julie Ann Walker has done it again. She's created a roller coaster ride that takes the reader through the jungles of Costa Rica and American politics." — Romancing the Book

"Julie Ann Walker writes a story that's fun and exciting with her witty dialogue while at the same time your are suspended in the intrigue, romance and the conflict between the two main characters." — Modokker Book Picks

"Jjam-packed with of action, adventure and steeaaammmyyy romance... " — Beyond Dreaming

"Julie Ann Walker writes great romantic suspense... intricate and complex." — The Book Vixen

"Walker's writing is simply fabulous... " — Literary Escapism
Sourcebooks Casablanca, 9781402282690, 320pp.
Publication Date: April 2, 2013
About the Author
Julie Ann Walker is the USA Today and New York Times Bestselling Author of the Black Knights Inc. romantic suspense series. She is prone to spouting movie quotes and song lyrics. She'll never say no to sharing a glass of wine or going for a long walk. She prefers impromptu travel over the scheduled kind, and she takes her coffee with milk. You can find her on her bicycle along the lake shore in Chicago or blasting away at her keyboard, trying to wrangle her capricious imagination into submission. For more information, please visit www.julieannwalker.com or follow her on Facebook www.facebook.com/jawalkerauthor and/or Twitter @JAWalkerAuthor.
or
Not Currently Available for Direct Purchase