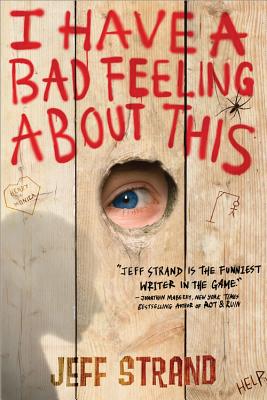 I Have a Bad Feeling About This
Paperback

* Individual store prices may vary.
Other Editions of This Title:
Prebound (3/1/2014)
Compact Disc (12/1/2014)
Description
The perfect blend of horror and humor, I Have a Bad Feeling About This is a laugh-out-loud wilderness comedy about an ultimate survival camp that takes a deadly turn...
Wilderness Survival Tip #1
Drinking your own sweat will not save your life. Somebody might have told you that, but they were trying to find out if you'd really do it.
Wilderness Survival Tip #2
In case of an avalanche, don't despair. You're doomed, but that's a wicked cool death.
Wilderness Survival Tip #3
If you're relying on this book for actual survival tips, you're dead already.
Henry Lambert would rather play video games than spend time in the great outdoors—but that doesn't make him a wuss. Skinny nerd? Fine. But wuss is a little harsh. Sadly, his dad doesn't agree. Which is why Henry is being shipped off to Strongwoods Survival Camp.
Strongwoods isn't exactly as advertised. It looks like the victim of a zombie apocalypse, the "camp director" is a psycho drill sergeant, and Henry's sure he saw a sign written in blood...
Perfect for those looking for:
Survival books for adults as well as young adults
Hilarious comedy books for boys
Teen books for boys ages 13-16
Also by Jeff Strand:
A Bad Day for Voo Doo
The Greatest Zombie Movie Ever
How You Ruined My Life
Stranger Things Have Happened
Praise For I Have a Bad Feeling About This…
"I really needed a book like this. Something fun, enjoyable and entertaining. To laugh all the way through a book is a great accomplishment and I truly have to commend the author for his ability to carry that speed and endurance." — My Never Ending List

" Grand and company arrive right in the middle of Strongwood's Survival Games, and the stage is set for a bizarre, hilarious melding of LORD OF THE FLIES, SURVIVOR, THE HUNGER GAMES, and DIARY OF A WIMPY KID." — Horror World

"Humor and hijinks are the name of the survival game

The short chapters, writing style, and humor make this a good choice for reluctant readers. Give this one to fans of the Home Alone movies and readers who love caper stories." — School Library Journal

"It's... funny, and the gags turn in unexpected directions and would do Saturday Night Live skits proud." — Kirkus Reviews

"In this gleefully... wickedly funny adventure, Strand balances action with laugh-out-loud humor, making this a thoroughly entertaining not-quite-coming-of-age tale... Strand balances action with laugh-out-loud humor, making this a thoroughly entertaining not-quite-coming-of-age tale." — Publishers Weekly

"Strand couples a rapid patter of well tuned
gags and teen banter to a plot marked by sudden violence and intervals of intense terror. It's humor
of a knee-slapping, yet decidedly edgy kind." — Booklist

"Teen boys will love the humor of this book. It is a fun, quick read that teens will pass on to each other." — VOYA Magazine

"Rip-roaring funny and a delight for any teen reader, this book will be breezed through with its non-stop action and hilarious content. Any kid is going to eat it up like the candy hidden under their bed and scream for more." — Hook of a Book
Sourcebooks Fire, 9781402284557, 256pp.
Publication Date: March 1, 2014
About the Author
JEFF STRAND lives in Tampa, Florida, and doesn't believe in voodoo. But he still thinks you should carry a doll around, go up to people you don't like, and chuckle while you jab it with pins, just to make them squirm. Poke around his gleefully macabre website at www.JeffStrand.com.