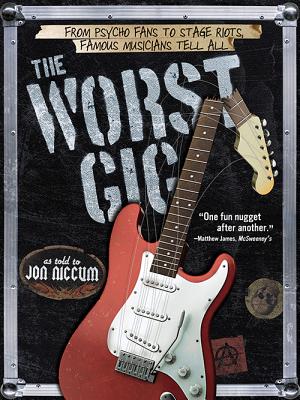 The Worst Gig (Paperback)
From Psycho Fans to Stage Riots, Famous Musicians Tell All
Sourcebooks, 9781402284953, 229pp.
Publication Date: October 1, 2013
* Individual store prices may vary.
Description
"WORST GIG is Music Appreciation 225, taught by that cool professor everyone wanted to have beers with after class. One fun nugget after another. It was harder to close than my Twitter app."--Matthew James, McSweeney's
"Tawdry tales of concert catastrophes "--Buzzfeed
"Musicians' 'Worst Gig' makes for best read ever."--Salon
What is the worst show you've ever played?
Sometimes the worst shows inspire the best stories. After hundreds of interviews with national headliners and beloved indie acts alike, entertainment journalist Jon Niccum has crafted a collection that chronicles the most embarrassing, most hilarious and most insane live show moments ever.
THE WORST GIG features outrageous stories from stars such as Wilco, Def Leppard, Tenacious D, Rush, John Mayer, and The Sex Pistols. Be it nature's wrath, equipment breakdowns or even military intervention, get the wild scoop on what really happened, straight from the artists themselves.