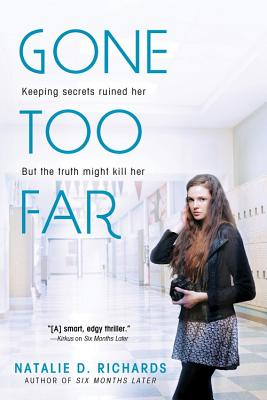 Gone Too Far
Paperback

* Individual store prices may vary.
Description
From Natalie D. Richards, the New York Times bestselling author of mystery books for teens, comes a YA psychological thriller book about a girl pulled into a dangerous revenge plot she can't escape, perfect for fans of Karen McManus and Natasha Preston.
Piper Woods can't wait to graduate and leave high school—and all its annoying cliques—behind. But when she finds a mysterious notebook filled with the sins of her fellow students, Piper is suddenly drowning in their secrets.
And she's not the only one who knows them. An anonymous text invites Piper to choose to punish the cheater, the bully, or the shoplifter. The popular kids with their dirty little secrets. With one text, Piper can make them pay.
But the truth can be dangerous…
A great buy for readers who want:
Teen fiction with romance and suspense
Pulse-pounding twists and turns
Shocking mysteries
Praise for Natalie D. Richards:
"As addictive as it is unpredictable. Natalie will keep you second guessing until the nail-biting end."—NATASHA PRESTON, New York Times bestselling author of The Cabin on My Secret to Tell
"Brimming with suspense and intrigue."—MEGAN MIRANDA, New York Times bestselling author of All the Missing Girls on My Secret to Tell
Also by Natalie D. Richards:
Five Total Strangers
Six Months Later
My Secret to Tell
One Was Lost
We All Fall Down
What You Hide
Praise For Gone Too Far…
"Richards (Six Months Later) delivers a gripping whodunit with a challenging ethical dilemma at its center... Richards maintains a quick pace and creates enough red herrings to keep readers guessing." — Publishers Weekly

"Plenty of drama, mystery… a thoughtful exploration of social justice in high school." — Booklist

"While I've never read a book by Natalie D. Richards before, 'Gone Too Far' has definitely made me a believer in her work and I'll be picking up more! It's hard to do… but a definite 5 out of 5 stars. I definitely enjoyed 'Gone Too Far'." — Nerd Problems

" I loved the characters, the fast-paced plot. The lessons you learn. Gone too Far is a great story, and I would absolutely recommend it to.... well, anyone really! I think this is a story that people of all ages can learn from, and enjoy!" — The Best Books Ever

"[A] good read for a long Winter afternoon with a cup of hot chocolate. " — Bookish

"[A] really great mystery that kept me guessing until the very end! It was well-paced and consistently engaging throughout." — Bookmark It

"Natalie D. Richards once again constructed a highly believable mystery/suspense with a likable main character and an adorable romance. My verdict? Don't miss out! :) " — Boricuan Bookworms

"Overall, Gone Too Far is really a brilliant and exceptional book. The plot is well thought, the characters are believable and if you're looking for a stay-up-all-night-forget-everything kind of read, this is it! " — Her Book Thoughts

"If you love mystery, then this one is a good one to read." — Once Upon a Twilight

"Well written and well rounded characters, an all too believable storyline with a likeable and relatable main character and romance that wasn't the be-all & end-all of the book, even though it definitely ruffled a lot of high school feathers, make for an extremely enjoyable read with just the right amount of suspense." — The Bookish Outsider

"[Richards] has a sure touch when it comes to depicting teens and their world... She sees into these kids and finds their innermost beings, their hearts and souls, whether good, bad or indifferent." — Buried Under Books

"If you are looking for a great story with a bit of mystery, some action, and some swoony parts, I recommend you check this one out." — Fiction Fare

"GONE TOO FAR will definitely be loved by many teens who are into suspenseful, holding-onto-your-breath-as-you-read novels. " — Teen Reads
Sourcebooks Fire, 9781402285547, 320pp.
Publication Date: January 6, 2015
About the Author
After years as a professional paper-pusher, NATALIE D. RICHARDS decided to trade in reality for a life writing YA fiction. She lives in Ohio (Go Bucks!) with her husband, three children, and a ridiculously furry dog named Yeti. This is her second novel. Visit her on Twitter @natdrichards or at nataliedrichards.com.