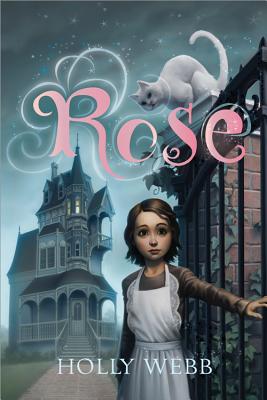 Rose
Paperback

* Individual store prices may vary.
Description
How would you know if you were special?
Mr. Fountain's grand mansion is a world away from the dark orphanage Rose had left behind. The gleaming, golden house is practically overflowing with sparkling magic—she can feel it. And though Rose had always wanted to be an ordinary girl with an ordinary life, she realizes she may possess a little bit of magic herself.
Discover the Spellbinding Bestselling UK Series
"Warm and sparkling and magical and fun."—Hilary McKay, bestselling author of Saffy's Angel
"A skillfully spun, spell-binding mystery that will catch you up in a web of wonder."—Junior Education Plus
Praise For Rose…
"This is Downton Abbey with magic. Funny and smart, exciting but never forgetting the rudimentary details of day-to-day life,
Rose
is the kind of book you could kick yourself for missing. shudder when I consider how close I came to never hearing about Holly Webb's mesmerizing, charming, purely delightful
Rose
" —
Betsy Bird, School Library Journal Fuse 8 Blog
"A marvelous mystery... This book is suspenseful and funny and full of colorful characters." —
The Buffalo News
"Rich vocabulary and a particularly scary encounter with a powerful witch set this title apart from other books in the genre. Fans of light fantasy and mystery will devour this intriguing story and eagerly await the sequel." —
School Library Journal
"•Kids who like a mix of magic and history with a dash of darkness may find this an entertaining read." —
Bulletin of the Center for Children's Books
"Imaginative, clever and beguiling, Holly Webb's
Rose
is that one book that tweens and teens will remember. The beautiful, captivating cover art is sure to draw young readers in the cover sells this book, but the writing will keep readers turning the pages. Highly recommended for grades four and up." —
El Paso Times
"This is an engaging book with a lot of kid appeal, and I would recommend it to young readers who enjoy a fun story with great characters and a little bit of magic, as well as those who enjoy historical and pseudo-historical settings." —
Wands and Worlds
"The start of a promising new series, English author Holly Webb spins together a shrewd and resourceful main character, a comfortingly familiar plot and writing that shines all the brighter for its simplicity... a book as satisfying and familiar as a cup of hot cocoa." —
Shelf Awareness
"
Rose
is sympathetic and a pleasure to root for, the secondary characters have room to grow, and the ending can be read as a new beginning, leaving plenty of room for a sequel. Character and the day-to-day workings of a wealthy household overshadow magic and plot in this engaging tale of an orphan servant-girl." —
Kirkus Reviews
"Magic, mystery, adventure, and friendship - this book has it all. The characters are delightful children, each searching for their special place in the world. I loved the book and would heartily recommend it to kids ages 9 and up, especially to fans of Harry Potter." —
Books for Kids
"Seriously awesome and fun mashup of classic British orphan tales and magic. I was totally sucked in... characterization was fun, magic introduced in a gradual manner as
Rose
learned about it and I loved Freddie, Isabella and Gus as much as
Rose
. This is a complete four book series in England and we're finally getting it. Can't wait for the others! " —
Librarian, Oak Park Public Library
"With enough dramatic build-up to entertain and engage older elementary-aged children, this is an accessible and engaging read that all we adults can readily recommend to our readers, reluctant or not." —
Book Lens
"I love that
Rose
is very brave and willing to put herself into scary situations if it means helping other people. I think middle-grade readers would absolutely love this book and I'm excited to read the sequels." —
KellyVision
"I love a good historical fantasy book and this one delivered.
Rose
is a strong heroine...and any book that has a breakdown between the upstairs/downstairs relationship is sure to make me happy." —
Books Beside My Bed
"Middle grade readers are sure to enjoy this exciting tale. Webb managed to take the things I loved about [A Little Princess, Harry Potter, and Annie] and put them together in an original way that is approachable for middle grade readers. " —
Next Best Book, Northbrook Junior High School
"Magic abounds in just the right doses as
Rose
leaves her orphanage to become a young maid for a mysterious man who is an alchemist and lives in a gothic oriented home. Fantasy and fun in this book would keep any young child entertained and amazed. Plus, there is mid-level mystery." —
Hook of a Book
"Holly Webb has created a captivating tale with Rose. The best news of all is that Rose's story continues in more books!" — Mrs. McGriff's Reading Blog
"All that I love in a middle-grade read with magic is in this book. The quirky, lovable characters; the historical setting; the mystery and intrigue. And, most importantly, the spunky lead who must find her way in this crazy (awesome) world." —
Imaginary Reads
Sourcebooks Young Readers, 9781402285813, 240pp.
Publication Date: September 3, 2013
About the Author
Holly Webb has written more than one hundred books, inlcuding the critically acclaimed Rose series. She worked for five years as a children's fiction editor before deciding to become a writer. She lives in Reading with her husband and three small children. Visit holly-webb.com.