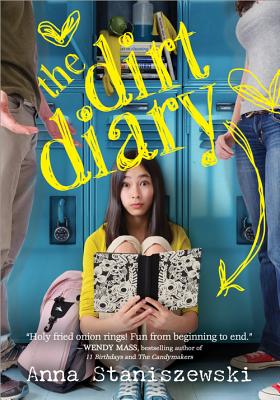 The Dirt Diary
Paperback

* Individual store prices may vary.
Description
The first book in Anna Staniszewski's award-winning YA best selling book series: The Dirt Diaries!
A hilarious tale about the weight of responsibility that comes from a secret-filled diary...
Rachel can't believe she has to give up her Saturdays to scrubbing other people's toilets. So. Gross. But she kinda, sorta stole $287.22 from her college fund that she's got to pay back ASAP or her mom will ground her for life. Which is even worse than working for her mother's new cleaning business. Maybe. After all, becoming a maid is definitely not going to help her already loserish reputation.
But Rachel picks up more than smelly socks on the job. As maid to some of the most popular kids in school, Rachel suddenly has all the dirt on the 8th grade in-crowd. Her formerly boring diary is now filled with juicy secrets. And when her crush offers to pay her to spy on his girlfriend, Rachel has to decide if she's willing to get her hands dirty...
"Holy fried onion rings! Fun from beginning to end."—Wendy Mass, New York Times bestselling author of 11 Birthdays and The Candymakers
The Dirt Diaries Series is the perfect…
book series for girls aged 9-12
book series for middle school girls
diary book series for reluctant readers
preteen gift for girls
Praise For The Dirt Diary…
"Confidently addressing a number of common tween troubles that include bullying, parental divorce, and peer pressure, Staniszewski introduces a determined eighth-grader desperate to get her separated parents back together in this humorous problem novel." " — Publishers Weekly

"Staniszewski neatly captures the pain of a shy young girl with newly separated parents . . .The quick pace and creative storyline will attract those in the mood for an undemanding, light read." — Kirkus Reviews

"Rachel's situation and feelings ring true . . .This realistic read is likely to appeal to middle schoolers and reluctant readers." " — School Library Journal

"It's laugh-out-loud funny and one of the most fun books I've read all year."an inspiring book for anyone who has ever been bullied." — Justine

"Rachel's voice is entirely teen authentic in its self-centeredness . . .there is still heart and humor here, so readers looking for a heroine as flawed as themselves will commiserate with Rachel." — The Bulletin of the Center for Children's Books

"another appealing series that promises more goofball humor blended with the real issues of early adolescence." — Booklist

"Anna Staniszewski, author, has done a magnificent job of creating a wacky yet serious character, Rachel, an eighth grader whose hokey expressions stick to your brain long after you're done reading the book... [The Dirt Diary] has secrets, heartbreak, romance, and humor—a great mix." — Writing Against the Wind
Sourcebooks Young Readers, 9781402286360, 256pp.
Publication Date: January 7, 2014
About the Author
Anna Staniszewski lives outside of Boston with her husband and an adorably crazy dog. She was named the Boston Public Library's 2006-2007 Writer-in-Residence and a winner of the 2009 PEN New England Discovery Award. When she's not writing, Anna spends her time teaching, reading, and not cleaning her house. Visit her at www.annastan.com.