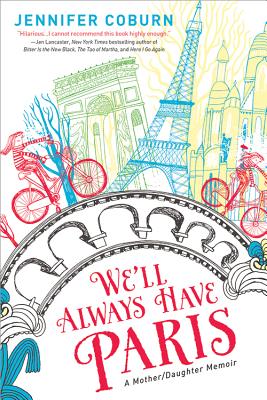 We'll Always Have Paris (Paperback)
A Mother/Daughter Memoir
Sourcebooks, 9781402288630, 377pp.
Publication Date: April 8, 2014
* Individual store prices may vary.
Description
How her daughter and her passport taught Jennifer to live like there's no tomorrow
Jennifer Coburn has always been terrified of dying young. So she decides to save up and drop everything to travel with her daughter, Katie, on a whirlwind European adventure before it's too late. Even though her husband can't join them, even though she's nervous about the journey, and even though she's perfectly healthy, Jennifer is determined to jam her daughter's mental photo album with memories--just in case.
From the cafes of Paris to the top of the Leaning Tower of Pisa, Jennifer and Katie take on Europe one city at a time, united by their desire to see the world and spend precious time together. In this heartwarming generational love story, Jennifer reveals how their adventures helped vanquish her fear of dying...for the sake of living.
"Brimming with joie de vivre "--Jamie Cat Callan, author of Ooh La La French Women's Secrets to Feeling Beautiful Every Day
"Coburn proves as adept at describing the terrain of the human heart as she is the gardens of Alcazar or the streets of Paris."--Claire and Mia Fontaine, authors of the bestselling Come Back and Have Mother, Will Travel.