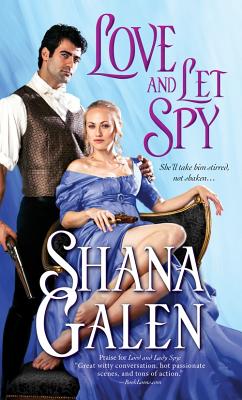 Love and Let Spy (Lord and Lady Spy #3) (Mass Market Paperbound)
Sourcebooks Casablanca, 9781402291739, 367pp.
Publication Date: August 5, 2014
* Individual store prices may vary.
Description
"Galen provides plenty of explosiveness, both literal and erotic, in a Regency-era romantic thriller packed with intrigue and lust."-Publishers WeeklyHer Name is Bonde...Jane Bonde...
A beautiful and eligible member of the ton, Jane has more than few secrets, including that she's one of the Crown's most elite agents. And though she may be deadly, she knows nothing about fashion, flirtation, or love...until Dominic Griffyn shakes up her carefully stirred world.
Dominic is exactly the kind of man Jane isn't looking for. He's tall, dark, and dangerous-because falling into his arms is so much more satisfying than saving England from her enemies.
The demons from Dominic's past haunt him. When his stepfather insists that he marry, Dominic allows himself to hope that the beautiful but mysterious Miss Bonde might help him forget his troubles. As they grow closer, it's clear that there's more to Jane than danger. She might be just what his neglected heart needs.
But when the time comes, will Jane choose her mission or the man she loves?
Fans of Julia Quinn, Sabrina Jefferies, and Madeline Hunter will be delighted by this killer combination of spy-thriller and historical romance.
Lord and Lady Spy Trilogy:
Lord and Lady Spy (Book 1): Lord Adrian and Lady Bridget Smythe have the picture-perfect marriage. Little does the ton know that each is one of England's most preeminent spies-with their secret identities guarded even from each other.
True Spies (Book 2): Winslow, a spy for the elite Barbican group in Regency England, has to keep his identity secret from his wife...until he's forced to bring her on his latest mission.
Love and Let Spy (Book 3)What readers are saying about Love and Let Spy
"It had delightful romance, constant thrills, and I enjoyed all of it."
"Love and Let Spy is one of those books you stay up half the night reading. The fast-paced action and witty dialogue kept me turning the pages until way after my bedtime."
"The ultimate movie spy James Bond gets the Regency treatment with all the gadgets, action and romance one would expect."What reviewers are saying about Love and Let Spy
"The fun, ebullient spy-driven plot is gratifyingly over-the-top in a Bond-movie way, while the romantic arc remains authentic and affecting."-Kirkus
"Shana Galen offers more Regency-era passion and fast-pace derring-do...this spy caper is] light and breezy, with just enough 007-inspired jokes to make readers chuckle, not groan"-Shelf Awareness
"A successful meld of spy-thriller and historical romance, Love and Let Spy is an entertaining read with some really emotional moments in it. I recommend it and will definitely read more from Shana Galen."-To Each Their Own Reviews
"Filled with action, adventure, danger, intrigue, surprising plot twists, passion, healing, witty banter, engaging characters, this book is a keeper "-Book Junkie
..".an absolutely sublime love story that shines above everything else."-Fresh FictionWhat people are saying about Shana Galen
"Her fast paced, action packed, thrill-seeking adventures that are filled with energy, passion, sensuality, romance and love."-My Book Addiction and More
"Galen creates a lighthearted yet poignant, humorous yet touching, love story - with original characters who delight and enough sizzle to add heat to a delicious read."-RT Book Reviews
"Tinged with danger and darkness, Galen's sexy and dramatic story has depth thanks to appealing characters with realistic problems and believable chemistry."-Publishers Weekly
"Galen is a grand mistress of the action/adventure subgenre."-RT Book Reviews.
or
Not Currently Available for Direct Purchase