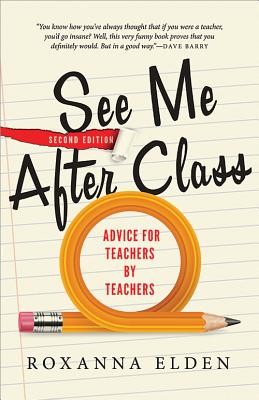 See Me After Class: Advice for Teachers by Teachers (Paperback)
Advice for Teachers by Teachers
Sourcebooks, 9781402297069, 199pp.
Publication Date: November 7, 2013
Description
"See Me After Class," combines stories and advice from teachers around the country in a readable, honest, and immediately practical guidebook. Elden says, "I wanted to write a book that teachers could pick up after a long week, finish over the weekend, and walk in Monday morning a better teacher. Not perfect, but better."


Elden pushes aside the sugar-coated Hollywood storyline (and the hero-author role that comes with it) to offer a more honest brand of inspiration. She acknowledges teaching is not like the movies, deals head on with the many frustrations that can derail good teachers, and helps teachers break through to those moments that make the challenges worthwhile.
Praise For See Me After Class: Advice for Teachers by Teachers…
"You know how you've always thought that if you were a teacher, you'd go insane? Well, this very funny book proves that you definitely would. But in a good way." - Dave Barry
Advertisement