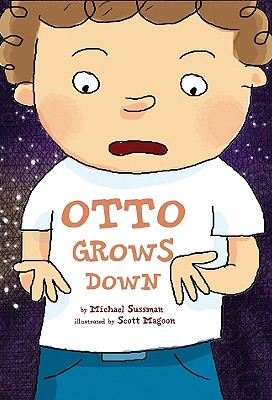 Otto Grows Down (Hardcover)
Sterling, 9781402747038, 32pp.
Publication Date: February 1, 2009
* Individual store prices may vary.
Description
What would it be like if time went backwards? One unlucky little boy is about to find out Otto has just one birthday wish: that his new baby sister Anna had never been born. And it comes true when the days suddenly start moving in reverse. But now, instead of growing up, Otto's growing DOWN. He's getting younger every minute and in danger of disappearing entirely. Can he turn things around before it's too latefor Anna and himself?Brilliant illustrations by the fabulous Scott Magoon capture all the fun of this whimsical tale.
About the Author
"!emit sdrawkcab ni kcuts llits m'I, ottO ekilnU !pleH" Michael Sussman is a clinical psychologist, writer, and musician. He lives in reverse - in notsoB - with his son, Oliver Quinn. This ishis first picture book.Scott Magoon has illustrated numerous picture books, including Ugly Fish (Harcourt Children s Books, 2006), written by Kara LaReau; Luck of the Loch Ness Monster: A Tale of Picky Eating (Houghton Mifflin, 2007), written by Alice Weaver Flaherty; and Hugo and Miles In I've Painted Everything (Houghton Mifflin, 2007), which he himself wrote."
Praise For Otto Grows Down…
"The deadpan drollery of Magoon's cartoon-style illustrations should appeal to adults as well as children, matching the quirkiness of Sussman's premise.  Otto's demonstrative lack of enthusiasm as he shakes his rattle for Anna is flat-out hilarious, and his growing consternation as he begins to live his life backward comes across loud and clear.  Genuine issue gracefully handled." --Kirkus Reviews
"Clinical psychologist Sussman's first book for children is spot-on in its success capturing the voice and emotions of the new older sibling.  . . . This book will entertain children whether or not they share Otto's experience, and would be a great choice for a bibliotherapeutic purpose as well." --
New England Reading Association Journal
 "Along the way, the book hits just the right notes of childish frustration at a new sibling - sassy, not snotty. (Sussman is a clinical psychologist, which likely explains his eerily accurate mapping of Otto's id-urges.) And though the story ends up with Otto's newfound appreciation for Anna, it's a sweet ending rather than a saccharine one." --
Austin American-Statesman
or
Not Currently Available for Direct Purchase