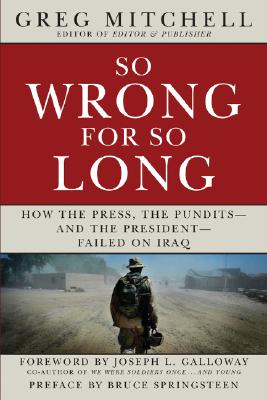 So Wrong for So Long: How the Press, the Pundits--And the President--Failed on Iraq (Paperback)
How the Press, the Pundits--And the President--Failed on Iraq
Union Square Press, 9781402756573, 320pp.
Publication Date: March 1, 2008
* Individual store prices may vary.
or
Not Currently Available for Direct Purchase
Description
Mitchell, editor of "Editor & Publisher" and noted press critic, offers his assessment of how well the media has--and has not--covered the war in Iraq.

About the Author
Greg Mitchell is the editor of "Editor & Publisher," the journal of the newspaper business which has won several major awards for its coverage of Iraq and the media. He has written eight books, including "Hiroshima in America "(with Robert Jay Lifton) and T"he Campaign of the Century: Upton Sinclair's Race for Governor of California and the Birth of Media Politics," and his articles have appeared in dozens of leading newspapers and magazines. He lives in the New York City area. Joseph L. Galloway is one of the most respected war correspondents of our time and currently writes a syndicated column on military affairs. He co-authored the bestselling "We Were Soldiers Once...and Young "and the forthcoming "We Are Soldiers Still." He was awarded a Bronze Star for valor in Vietnam.
Praise For So Wrong for So Long: How the Press, the Pundits--And the President--Failed on Iraq…
"Worthy of shelving alongside the best of the Iraq books."--Kirkus
"Greg Mitchell has given us a razor-sharp critique of how the media and the government connived in one of the great blunders of American foreign policy. Every aspiring journalist, every veteran, every pundit—and every citizen who cares about the difference between illusion and reality, propaganda and the truth, and looked to the press to help keep them separate—should read this book. Twice."—Bill Moyers
"With the tragic war in Iraq dragging on, and the drumbeat for new conflicts growing louder, this is more than a five-year history of the biggest foreign policy debacle of our times—it's a cautionary tale that is as relevant as this morning's headlines. Greg Mitchell makes it clear that Iraq is a case study in bad judgment, from the misguided moves of an administration blinded by its zealotry to a complacent media that too often acted as an extension of the White House press office.  Read it and weep; read it and get enraged; read it and make sure it doesn't happen again."—
Arianna  Huffington
"The profound failure of the American press with regard to the Iraq War may very well be the most significant political story of this generation.  Greg Mitchell has established himself as one of our country's most perceptive media critics, and here he provides invaluable insight into how massive journalistic failures enabled the greatest strategic disaster in the nation's history."—
Glenn Greenwald
, Salon.com columnist and author of  
A Tragic Legacy and How Would a Patriot Act?
 "Anyone who cares about the integrity of the American media should read this book. Greg Mitchell asks tough questions about the Iraq war that should have been asked long ago, in a poignant, patriotic, and thoughtful dissection of our war in Iraq. Mitchell names names and places blame on those who've blundered. Examining the most complex issue of our time, he connects the dots like no one else has."—
Paul Rieckhoff
, Executive Director, Iraq and Afghanistan Veterans of America and author of
Chasing Ghosts
Advertisement