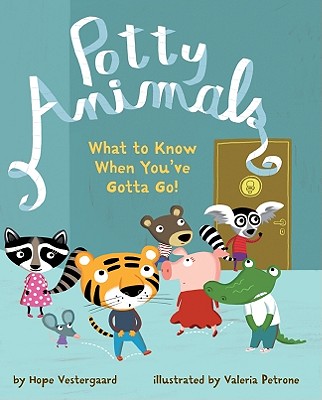 Potty Animals
What to Know When You've Gotta Go!
Hardcover

* Individual store prices may vary.
Description
Meet Wilbur, who won't wash his hands after going potty. Wilma, who waits too long...and sometimes doesn't make it in time. And Freddie, who's afraid to flush. These are just a few of the preschool animals who need a little help with their bathroom etiquette With wit and good humor, Hope Vestergaard presents a unique "toilet basics" guide for toddlers. It covers everything from lifting the seat and closing the door to planning ahead when you're on a trip. All told in cheerful rhyme, with hilarious illustrations, it's a fun way to handle a serious subject. PLAN AHEAD DON'T WAIT TOO LONG GO POTTY BEFORE YOU SLEEP EXCUSE YOURSELF KNOCK FIRST BE SURE TO LIFT UP THE SEAT CLOSE THE DOOR DON'T LOLLYGAG NEVER FORGET TO WIPE WASH YOUR HANDS ZIP AND FLUSH ALWAYS TURN OUT THE LIGHT
Sterling, 9781402759963, 32pp.
Publication Date: March 2, 2010