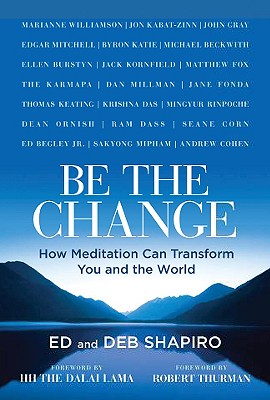 Be the Change
How Meditation Can Transform You and the World
Hardcover

* Individual store prices may vary.
Other Editions of This Title:
Paperback (11/1/2011)
Description
Meditation is now enjoying a renewed surge of popularity, penetrating the public consciousness as never before. What might that mean for us all? "Be the Change" examines the transformations wrought by this ancient practice through the wisdom of extraordinary luminaries, interwoven with text from award-winning authors Ed and Deb Shapiro. The words of these spiritual leaders from all disciplines and walks of life will surprise, enlighten, and inspire readers to begin their own meditation practiceand perhaps create the foundation for a new and more hopeful age. Includes wisdom from luminaries such as: *HH the Dalai Lama * Marianne Williamson * Robert Thurman * Jon Kabat-Zinn* Ram Dass *Byron Katie * Dan Millman * Joan Borysenko *Jane Fonda * HH The Karmapa* Jack Kornfield *Krishna Das * Dean Ornish * Andrew Cohen * Jean Houston * Kitaro * Ellen Burstyn * Gregg Braden * Gay & Kathlyn Hendricks * Debbie Ford * Gangaji * Rabbi Zalman Schachter * Cyndi Lee * Wavy Gravy * Linus Roache * Tim Freke * Don Campbell *and many more
Sterling Ethos, 9781402760013, 352pp.
Publication Date: November 1, 2009
About the Author
ED AND DEB SHAPIRO are the award-winning authors of fifteen books on meditation, personal development, and social action. They are Featured Bloggers for Oprah.com/spirit, HuffingtonPost.com, Intent.com, and Care2.com. They teach meditation workshops worldwide, and work as corporate consultants. They are the creators and writers of the Daily CHILLOUT inspirational text messages on Sprint cell phones. Their books include: "YOUR BODY SPEAKS YOUR MIND, "winner of the 2007 Visionary Book Award and finalist for the Nautilus Book Award; "VOICES FROM THE HEART" with contributors such as President Gorbachev, the Dalai Lama, and Bishop Tutu; and "MEDITATION: The Four Step Course to Calmness and Clarity." Ed, from New York, trained as a Swami with Paramahamsa Satyananda at the Bihar School of Yoga in India, with Sri Swami Satchidananda of Integral Yoga, and with Chogyam Trungpa Rinpoche. Deb, from London, trained in meditation with Tai Situ Rinpoche. They have taught meditation and personal development for over twenty-five years. They currently reside in Boulder, Colorado. Check them out online at www.bethechangemeditate.com and EdandDebShapiro.com."
or
Not Currently Available for Direct Purchase