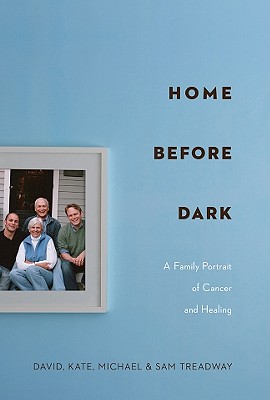 Home Before Dark (Hardcover)
A Family Portrait of Cancer and Healing
Union Square Press, 9781402760716, 256pp.
Publication Date: April 6, 2010
* Individual store prices may vary.
Description
"Dare I say it, cancer was just what our family needed."
—Michael Treadway
An unflinchingly honest memoir of coping with cancer, told through the four voices of one family
In May 2005, David Treadway—a successful psychologist, husband, and father of two sons—was diagnosed with stage 4, non-Hodgkin's lymphoma and given a 25% chance of survival. His life wasn't the only one that changed in that instant. His family members all faced their own challenges: Kate, a physician practicing in the hospital where David was treated, struggled with her conflicting roles of wife, mother and doctor; twenty-something son Michael, unhappy with where his life was headed, moved home to figure things out; Sam—then a junior in college—reacted with denial.
In
Home Before Dark
, readers are granted—via beautifully-crafted alternating chapters by all four Treadways—a candid snapshot of one family dealing in the aftermath of the diagnosis of a terminal illness. From muddling through initial shock to translating the medical language of chemotherapy cocktails to managing the lingering ghost of fear even after David's 2006 remission, the Treadways avoid platitudes and easy answers in favor of raw honesty. Moving, heartbreaking, morbidly wry and ultimately uplifting,
Home Before Dark
captures the everyday struggles of living with and loving someone fighting for his life
Praise For Home Before Dark: A Family Portrait of Cancer and Healing…
 "In the Treadway family, we can't help but see ourselves. Their beautifully told story is achingly personal but filled with reminders of how honesty, acceptance, humor and love can bind us together."
-Jeffrey Zaslow, coauthor of The Last Lecture "[A] memoir about illness that is remarkable in its honesty and extraordinary in its breadth. I wept, cheered, and even laughed out loud. …[A] courageous and exceptional book." --Pauline W. Chen, New York Times' columnist and author of Final Exam: A Surgeon's Reflections on Mortality "A compelling saga about a family thrown into chaos as they confront disease. A moving, honest, and often surprisingly funny memoir about the ways in which adversity forces us to come together."
-Dr. Tom Graboys, author of Life in the Balance: A Physician's Memoir of Life, Love, and Loss with Parkinson's Disease and Dementia "A tremendously insightful and moving story of the impact of cancer on an entire family. … A book for patients, families and caregivers." --Dr. James Mongan, Professor, Harvard Medical School and former President of Massachusetts General Hospital "Home Before Dark offers an engrossing, intimate, and heartening illness narrative. The Treadways bravely share the enlightened self-examination that allows them to chart a healing course through rough waters." --Debra Malina, editor, New England Journal of Medicine "Moving and remarkably honest book. …The Treadway family's insights will be invaluable for those coping with serious illness and for all of those caring for them." --George E. Thibault, MD, Professor Emeritus, Harvard Medical School, and President of the Josiah Macy, Jr. Foundation "A poignant chronicle of the impact of a cancer diagnosis on tightly knit family members and the remarkable power of their relationships to confront the terror caused by the disease." --Robert J. Mayer, MD, Dana-Farber Cancer Institute
or
Not Currently Available for Direct Purchase