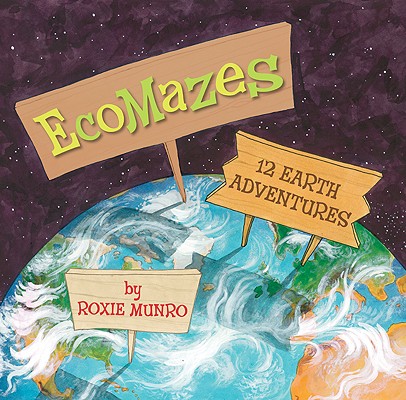 EcoMazes (Hardcover)
Twelve Earth Adventures
Sterling, 9781402763939, 40pp.
Publication Date: April 6, 2010
* Individual store prices may vary.
Description
The marvelous Roxie Munro is back with more a-MAZE-ing adventures!  This time she's taking kids on an exciting (and informative) journey through 12 incredible ecosystems, from lush evergreen forests to colorful coral reefs, from the frozen tundra to hot desert sands. And to make things even more funand challengingevery bright and bold maze features hidden animals that belong in that environment, including wolves, stingrays, parrots, crocodiles, and a whole colony of seals! 
The ecosystems include:
Tropical Rainforest  -  Desert  -  Arctic Polar  -  Grasslands  -  Savanna  -  Wetlands  -  Coral Reef  -  Tundra  -  and a human habitat: a campground!
Praise For EcoMazes: Twelve Earth Adventures…
Starred Review:
These simple, themed mazes are set in full-spread renditions of biomes ranging from a tropical rain forest to a rocky, penguin-packed Antarctic beach. Munro invites viewers to trace each wandering, easy-to-follow pathway with a finger, noting distinctive landforms and keeping their eyes peeled for the tiny but precisely rendered wildlife visible on either side of the path. A list of wildlife on the page plus visual keys at the back of the book will prevent younger or less-attentive children from becoming frustrated. The author adds to those keys a brief description of each biome's characteristics, identifies the locations on which each landscape is modeled, and closes with a carefully selected list of Web and print resources. This is truly a complete package: it's engrossing and interactive, featuring finely and accurately detailed art and covering the basics of an organizational concept that is central to our understanding of the natural world." -- School Library Journal (June 2010) The author of Mazescapes (2001) and Mazeways (2007) presents 12 ecosystem mazes from around the globe, and along each route children can search for more than 350 hidden animals scattered throughout the colorfully inked pictures (an answer key in the back pinpoints their locations). Each puzzle solution appears on its own page in the back, along with additional paragraphs about the vegetation, climate, and other unique qualities of each environment. Fun facts reinforce the delicate balance and importance of these regions and subtly push a message of conservation. Nature-loving youngsters and puzzle-hounds alike will enjoy repeat visits to these landscapes. -- Booklist (June 2010)
or
Not Currently Available for Direct Purchase