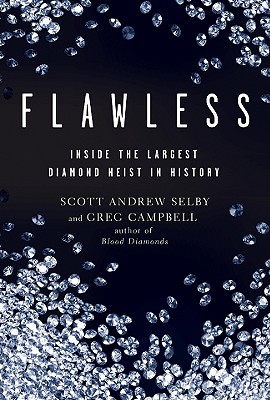 Flawless
Inside the Largest Diamond Heist in History
Hardcover

* Individual store prices may vary.
Other Editions of This Title:
Digital Audiobook (3/22/2010)
Compact Disc (6/21/2016)
MP3 CD (6/21/2016)
Paperback (2/7/2012)
Description
On February 15, 2003, a group of thieves broke into an allegedly airtight vault in the international diamond capital of Antwerp, Belgium and made off with over $108 million dollars worth of diamonds and other valuables. They did so without tripping an alarm or injuring a single guard in the process.
Although the crime was perfect, the getaway was not. The police zeroed in on a band of professional thieves fronted by Leonardo Notarbartolo, a dapper Italian who had rented an office in the Diamond Center and clandestinely cased its vault for over two years.  The "who" of the crime had been answered, but the "how" remained largely a mystery.
Enter Scott Andrew Selby, a Harvard Law grad and diamond expert, and Greg Campbell, author of Blood Diamonds, who undertook a global goose chase to uncover the true story behind the daring heist. Tracking the threads of the story throughout Europe—from Belgium to Italy, in seedy cafés and sleek diamond offices—the authors sorted through an array of conflicting details, divergent opinions and incongruous theories to put together the puzzle of what actually happened that Valentine's Day weekend.
This real-life Ocean's Eleven—a combination of diamond history, journalistic reportage, and riveting true-crime story—provides a thrilling in-depth study detailing the better-than-fiction heist of the century.
Praise For Flawless: Inside the Largest Diamond Heist in History…
Praise for FLAWLESS:
"Fans of caper books and movies will be in seventh heaven here.  …A must-read for true-crime fans."
—
Booklist
(Starred Review) 
 "…a riveting narrative…" —
Boston Globe

 "...a fascinating chronicle...Like a finely cut gem, this well-polished, multifaceted book sparkles." --
Publishers Weekly
  "Fans of true crime (especially those who appreciate less violence and no gore) and of crime caper movies will especially enjoy this fun romp." --
Library Journal
"Exciting, well-crafted tale...Selby and Campbell (Blood Diamonds: Tracing The Deadly Path of the World's Most Precious Stones, 2002, etc.) provide an engrossing nonfiction thriller...an effective, well-researched collaboration, in which the classic heist story illustrates the seamy underbelly and criminal lure behind the bright facade of the diamond industry. Sure to appeal to armchair rogues and, like Blood Diamond, cinema-ready." -- Kirkus Reviews 
"Part whodunit, part mob tell-all, part diamond underworld reportage, Flawless is simply too good to miss." —Ulrich Boser, author of The Gardner Heist
"With Flawless, Scott Andrew Selby and Greg Campbell take the genre of true crime to a new level. Reading it, you realize that sometimes reality can be more fantastic than most action films."—Douglas Preston and Mario Spezi, New York Times bestselling authors of The Monster of Florence
"The first 'must-be-read-with-popcorn' book ever. Selby and Campbell's propulsive and cinematic narrative shimmers with truth, hubris and knowing details. I loved it."—Gregg Olsen, New York Times bestselling author of Starvation Heights
"That real life often outdoes fiction is no longer surprising, but when a true story is brilliantly told, it's a discovery worth shouting about. Flawless will leave you gasping as the authors gradually peel back the covers on one of the most audacious acts of high stakes mischief in the history of thievery."—Lee Gruenfeld, co-author of Confessions of a Master Jewel Thief
"In Flawless, Selby and Campbell expertly dissect this audacious crime in a compellingly expansive investigation ranging from the intricacies of the diamond industry to the history of the mob in Italy. A story that could have been ripped from the pages of a movie script but which is rooted in fact, Flawless is a rare true crime story—a real diamond in the rough."—Julian Rubinstein, author of Ballad of the Whiskey Robber
"[D]azzling. Scott Andrew Selby and Greg Campbell take us into the minds of top-drawer jewel thieves who view every lock as a challenge, every cop as a fool and everyone else's diamonds as their own birthright. Handle with discretion—you might be up all night reading."—Tom Zoellner, author of The Heartless Stone and Uranium
"Flawless is flawless. This is a one-hundred carat gem of a book. Flawless is an incredible, true, page-turning account of a half-billion dollar diamond robbery—the boldest, most daring diamond theft in the world."—J. North Conway, author of King of Heists
"The gripping story of an incredible crime. This tale of old-fashioned criminal enterprise has been told with a level of research that immerses you in a fascinating journey into the hidden world of diamond trading."—Neil Forsyth, author of Other People's Money
"You could not invent a better crime story. From the very first step into that ransacked vault, Selby and Campbell have you." —Kevin Krajick, author of Barren Lands
"A thoroughly modern and riveting tale of the world's biggest diamond heist.  With vivid storytelling and fascinating detail, Selby and Campbell piece together every step of mastermind Leonardo Notarbartolo's plan, and the investigation that left detectives dumbfounded.  Full of intrigue and suspense, Flawless is a terrific read."—Gilbert King, author of The Execution of Willie Francis
Union Square Press, 9781402766510, 336pp.
Publication Date: February 2, 2010
or
Not Currently Available for Direct Purchase