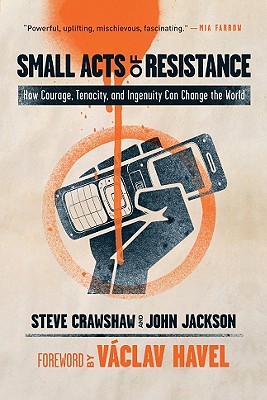 Small Acts of Resistance
How Courage, Tenacity, and Ingenuity Can Change the World
Hardcover

* Individual store prices may vary.
Description
Remarkable, mischievous, inspiringthe eighty-odd stories in Small Acts of Resistance bring hidden histories to life. The courage of the people in these stories is breathtaking. So, too, is the impact and imagination of their actions.These mostly little known storiesincluding those written from eyewitness experience of the events and situations describedreveal the role ordinary people have played in achieving extraordinary change. In the real world, it will never happen," the skeptics love to tell us. As this book so vividly shows, the skeptics have repeatedly been proven wrong.Stories in this include how:·      Strollers, toilet paper, and illegal ketchup helped end forty years of one-party Communist rule·      Dogs (and what they wore) helped protestors humiliate a murderous regime·      Internet videos about cuddly animals infuriated a repressive government which triedand failedto ban the craze·      Football crowds found ways of singing the national anthem so as to defy a junta of torturers, now in jail·      Women successfully put pressure on warlords to end one of Africa's bloodiest wars·      The singing of old folksongs hastened the collapse of an empire sustained by tanksIf you think individuals are powerless to change the world, read this remarkable book and you'll surely change your mind.
For more information, go to www.smallactsofresistance.com.
Praise For Small Acts of Resistance: How Courage, Tenacity, and Ingenuity Can Change the World…
"Powerful, uplifting, mischievous, fascinating." Mia Farrow
At its simplest this is a series of uplifting accounts of the sheer power of the human spirit to overwhelm man's inhumanity to man. But it is also a highly readable voyage through a century of struggle across the world."Jon Snow, anchor, Channel 4 News UK Too often, people talk of what is unachievable. As this book makes clear, we need to be reminded about what is achievable, too. Small Acts of Resistance is inspiringand real." Shirin Ebadi, Nobel prize-winning Iranian activist and lawyer An inspiring account of those magic moments of mischief that can transform our livesa book that shows how to poke your tongue out at tyrants without having it cut off." Geoffrey Robertson, author of Crimes Against Humanity: The Struggle for Global Justice
Union Square Press, 9781402768071, 230pp.
Publication Date: October 5, 2010
About the Author
STEVE CRAWSHAW is international advocacy director at Amnesty International in London. He was a foreign correspondent at "The Independent" from 1986 to 2002 and worked at Human Rights Watch in London and New York from 2002 to 2010. He is the author of "Goodbye to the USSR" and "Easier Fatherland: Germany and the 21st Century." JOHN JACKSON is Vice President of Social Responsibility for MTV Networks International. Previously, he led social justice initiatives internationally as Head of Campaigns at Christian Aid and was a founding member and Director of the Burma Campaign UK.
or
Not Currently Available for Direct Purchase