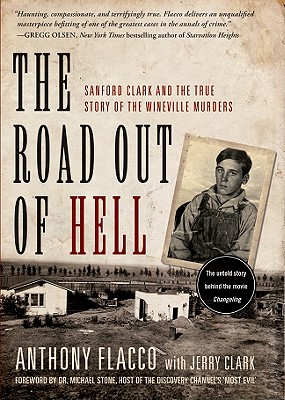 The Road Out of Hell: Sanford Clark and the True Story of the Wineville Murders (Hardcover)
Sanford Clark and the True Story of the Wineville Murders
Union Square Press, 9781402768699, 285pp.
Publication Date: November 1, 2009
* Individual store prices may vary.
or
Not Currently Available for Direct Purchase
Description
From 1926 to 1928, Gordon Stewart Northcott committed at least 20 murders on a chicken ranch outside of Los Angeles. His nephew, Sanford Clark, was held captive there from the age of 13 to 15, and was the sole surviving victim of the killing spree. Here, acclaimed crime writer Anthony Flaccousing never-before-heard information from Sanford's son Jerry Clarktells the real story behind the case that riveted the nation.  
Forced by Northcott to take part in the murders, Sanford carried tremendous guilt all his life. Yet despite his youth and the trauma, he helped gain some justice for the dead and their families by testifying at Northcott's trialwhich led to his conviction and execution. It was a shocking story, but perhaps the most shocking part of all is the extraordinarily ordinary life Clark went on to live as a decorated WWII vet, a devoted husband of 55 years, a loving father, and a productive citizen.
In dramatizing one of the darkest cases in American crime, Flacco constructs a riveting psychological drama about how Sanford was able to detoxify himself from the evil he'd encountered, offering the ultimately redemptive story of one man's remarkable ability to survive a nightmare and emerge intact.
About the Author
Anthony Flacco is an acclaimed author, ghost writer, screenwriter, and public speaker. He is a member of the Writers Guild of America/West, International Thriller Writers, and the Mystery Writers of America. Recent speaking engagements include MediaBistro seminars and the Jack London Writers Conference. He is also co-author of Publish Your Nonfiction Book, coming from Writer's Digest in November. For more information, visit www.anthonyflacco.com.
Praise For The Road Out of Hell: Sanford Clark and the True Story of the Wineville Murders…
Praise for
 The Road Out of Hell
Haunting, compassionate, and terrifyingly true, Flacco delivers an unqualified masterpiece befitting of one of the greatest cases in the annals of crime."Gregg Olsen, New York Times Bestselling author of Starvation Heights
And you wonder: How the hell did this guy go on to be a loving father and grandfather? How did he bury all that crap? That's a whole story in itself." Clint Eastwood, director of Changeling, regarding Sanford Clark
Anthony Flacco serves this one straight from the heart. Sanford Clark is an innocent victim of deliberate evil who is nearly vanquished out of existence, but once rescued, dedicates his life of quiet courage and loving decency for family."Dave Pelzer, author of A Child Called It and 2005 National Jefferson Award Recipient
In a terrifying tour de force, Anthony Flacco drops the reader into California in the 1920's and takes us on a gut-wrenching ride through a killing rampage so hellish it makes the BTK serial killer's spree look tame. In the midst of the carnage, an innocent is forced to kill to survive and then must fight to redeem himself. Once you pick this book up, you will not be able put it down."Jane Velez-Mitchell, Host of CNN's Issues with Jane Velez-Mitchell," and author of Secrets Can Be Murder: What America's Most Sensational Crimes Tell Us About Ourselves
Th[is] story is one of the most horrific I know ofand I know a lot of stories. Northcott's crimes, which include the corruption of his nephew Sanford Clark, are certainly among the worst. Amazingly, the book not only shows us a picture of almost unimaginable evil, but also a picture of one manSanford Clarkwho was able, beyond all expectation, to transcend the evil into which he was forced by his uncle [and] become, in the process, uncommonly good."Dr. Michael Stone, Host of Discovery Investigation's Most Evil," Professor of Clinical Psychiatry at Columbia College of Physicians and Surgeons, and Attending Psychiatrist in Forensics at MidHudson Forensic Psychiatric Hospital
Advertisement