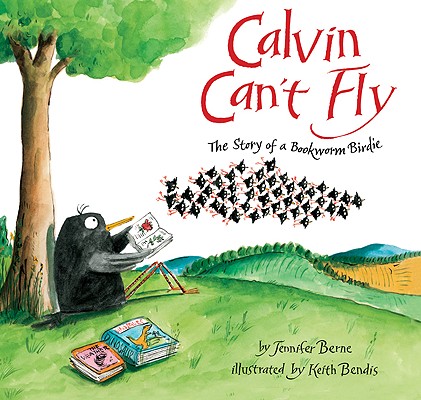 Calvin Can't Fly: The Story of a Bookworm Birdie (Hardcover)
The Story of a Bookworm Birdie
Sterling, 9781402773235, 32pp.
Publication Date: September 7, 2010
* Individual store prices may vary.
or
Not Currently Available for Direct Purchase
Description
Calvin is one unusual starling While his siblings and cousins learn to fly, this rare bird lets his imagination soar while reading about pirates, dinosaurs, and other fascinating things. The other birds call him -geeky beaky, - but Calvin just ruffles his feathers and buries his beak in a book. Yet, when it comes time to migrate, poor Calvin suddenly realizes he can't fly His sisters, brothers, and cousins carry him into the air.
But on their way south, the winds blow hard, the trees bend, and the air starts to smell strange. It's a hurricane, and only Calvin can save the day-because he has read all about it
Witty illustrations, an endearing hero, and a delightful story make this a true celebration of the pleasures of reading

About the Author
Jennifer Berne has been a long-time contributor to Nick Jr. Magazine, and a writer for both print and TV. Her recent award-winning picture book, Manfish: A Story of Jacques Cousteau, is one of Calvin's favorites. Keith Bendis's work has appeared in the New Yorker, Vanity Fair, Fortune, and Time. Keith was the illustrator for William Safire's -On Language- column in the New York Times Magazine, and for nine books including William Kotzwinkle's The Fan Man and the best-selling Casey at the Bat. He lives on an old farm in Columbia County, NY.
Praise For Calvin Can't Fly: The Story of a Bookworm Birdie…
"The irresistible story of a proud bookworm will put smiles on the faces of readers of all ages. Calvin is a young starling with a huge family. While his brothers, sisters and 67,432 cousins are off discovering nature and learning to fly, Calvin is content to keep his beak in a good bookbooks will take him places his wings never could, after all. When the season changes and it is time to migrate, Calvin realizes he was too busy learning...to learn how to fly! His loving family find a way to bring him along, but they run into treacherous weather along their journey. Luckily, Calvin has read just what to do and saves his entire flock. The illustrations are wildly original and full of funny details (check out the highly technical flight classes and the cows' lipstick). With their stick legs, flat heads and fluffy hair(s), the starlings are endearingly comical. Between its heartwarming (but never treacly) story and quirky illustrations, this tale should be a staple among book-loving families as well as in libraries and elementary classrooms for years to come." --Kirkus Reviews, Starred Review "In a lively children's book debut, Bendis contributes gouache cartoons that bring action and droll wit to Berne's (Manfish: A Story of Jacques Cousteau) story about valuable experiences to be found both inside and outside books. Young starling Calvin--humorously depicted as a squarish, wide-eyed bird with long, spindly legs--is a loner. While his seven siblings and more than 67,000 cousins ("Starlings have big families") learn how to fly, Calvin spends his days reading. Hurt by taunts of "nerdy birdie" and "geeky beaky," the book lover waddles to the library, "the only place where he was happy." When it's time to head south for the winter and Calvin still doesn't know how to fly, the other starlings gamely tie strings to him to tow him along. An approaching hurricane gives Calvin a chance to show off his book smarts ("We need to get out of the path of a violent, tropical weather system, which... will not diminish until it encounters large stretches of landmass!"). Regular doses of humor in the text and art happily keep the story from migrating into sentimentality. - Publisher's Weekly
Advertisement