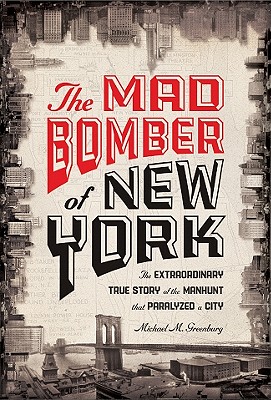 The Mad Bomber of New York (Hardcover)
The Extraordinary True Story of the Manhunt That Paralyzed a City
Union Square Press, 9781402774348, 336pp.
Publication Date: April 1, 2011
* Individual store prices may vary.
Description
Between 1940 and 1957, 33 bombs--strategically placed in Grand Central, Penn Station, Radio City Music Hall, Macy's and other populous areas of New York--paralyzed the city,  sending shockwaves of fear through an unsuspecting public.
 George Metesky, the "Mad Bomber," unleashed a reign of terror that reverberated through America's social, legal, and political landscape, ultimately spurring the birth of modern criminal profiling when a crime psychiatrist was called in to assist in the manhunt. Compelling historical true crime, The Mad Bomber of New York is the gripping tale of two individuals engaged in a deadly game of hide-and-seek, with the city of New York caught in the crosshairs.
Praise For The Mad Bomber of New York: The Extraordinary True Story of the Manhunt That Paralyzed a City…
"Fear, the city and one angry man.Greenburg (Peaches & Daddy: A Story of the Roaring '20s, the Birth of Tabloid Media, and the Courtship that Captured the Hearts and Imaginations of the American Public, 2008) relates the gripping and bizarre story of George Metesky, the "Mad Bomber" who, between 1940 and 1957, terrorized New York City with a series of pipe bombs placed in public restrooms, phone booths, theater seats and other public locations. Though his bombs caused no fatalities, 15 citizens sustained injuries, and Metesky's elusion of the police engendered extreme anxiety in the populace and frustrated and humiliated the NYPD. In a clear, engaging style, Greenburg marshals the complex facts of the decades-long saga and paints a sympathetically three-dimensional portrait of Metesky, a paranoid schizophrenic with a long-held grudge against the Con Edison power company for failure to pay workman's compensation after he sustained an injury in its employ. The manhunt would have far-reaching impact on police work, as desperate investigators turned to unconventional methods after being stymied in their pursuit; chief among these innovations was the decision to consult with prominent psychiatrist James Brussel in an attempt to infer personal details about the faceless terrorist through a sort of educated guesswork. Brussel's contributions proved strikingly germane, and "criminal profiling" would become a key component in investigations ever after. Metesky's legal battles after his capture would also prove influential, his tireless letter-writing campaign eventually leading to reforms in the handling of the criminally insane.A compelling account of a dangerously angry man and the investigation that helped to revolutionize modern police work."--Kirkus Reviews  

"A unique trip into the heart of the decades-long investigation to find the mystery man who held New York City in his deadly grip, and into the mind of a psychopath bent on revenge—no matter the cost. An excellent read!"—Clint Van Zandt, former FBI profiler, NBC/MSNBC's senior criminal analyst, and author of Facing Down Evil: Life on the Edge as an FBI Hostage Negotiator "A brilliantly gripping account of New York's forgotten seventeen-year serial bombing case and the rise of criminal profiling in American investigative practice. A compelling new history of the infamous Mad Bomber who terrorized New York."—Peter Vronsky, author of Serial Killers: The Method and Madness of Monsters  "Michael M. Greenburg takes us back in time and tells a compelling and engrossing story of crime, twisted psychological functioning, and the societal institutions that tried to deal with the perpetrator."—Gerald Sweet, PhD, forensic and police psychologist, Los Angeles Police Department (ret.) "Painstakingly researched and masterfully told. Michael M. Greenburg has put together a first-rate true-crime story that knocks your socks off—and leaves you pondering the full meaning of insanity."—Scott Christianson, author of Bodies of Evidence: Forensic Science and Crime and Condemned: Inside the Sing Sing Death House
Coverage from NPR
or
Not Currently Available for Direct Purchase