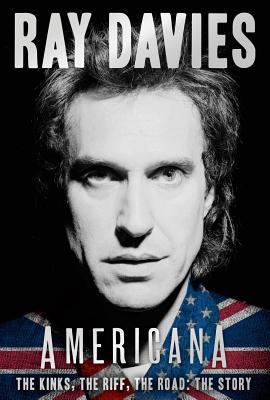 Americana
The Kinks, the Riff, the Road: The Story
Hardcover

* Individual store prices may vary.
Description
As a boy in post-War England, legendary Kinks' singer/songwriter Ray Davies fell in love with America--its movies and music, its culture of freedom, fed his imagination. Then, as part of the British Invasion, he toured the US with the Kinks during one of the most tumultuous eras in recent history--until the Kinks group was banned from performing there from 1965-69. Many tours and trips later, while living in New Orleans, he experienced a transformative event: the shooting (a result of a botched robbery) that nearly took his life. In Americana, Davies tries to make sense of his long love-hate relationship with the country that both inspired and frustrated him. From his quintessentially English perspective as a Kink, Davies--with candor, humor, and wit--takes us on a very personal road trip through his life and storied career as a rock star, and reveals what music, fame, and America really mean to him. Some of the most fascinating characters in recent pop culture make appearances, from the famous to the perhaps even-more-interesting behind-the-scenes players. The book also includes a photographic insert with images from Davies's own collection from the band's archive.
Sterling, 9781402778919, 311pp.
Publication Date: October 15, 2013
About the Author
Iconic rock legend Ray Davies inspired generations of musicians--from the Who, the Clash, and the Ramones to Black Sabbath--as lead singer and songwriter of the Kinks. The band's string of top ten international hits include "You Really Got Me," "All Day and All of the Night," "Till the End of the Day," "Come Dancing," and of course, "Lola." In 1990, the Kinks were inducted into the Rock and Roll Hall of Fame. Davies has also acted, directed, and produced shows for theater and television. Since the Kinks disbanded he has embarked on a solo career and continues to tour and record. Davies was inducted into the Songwriters Hall of Fame in June 2014, and his Kinks-themed stage musical, Sunny Afternoon, is now playing on the West End in London and crowned best new musical at the Olivier Awards in April 2015. It also won Oliviers for best actor and best supporting actor in the musical category, and Ray Davies received a special outstanding achievement award for the Sunny Afternoon score.
or
Not Currently Available for Direct Purchase