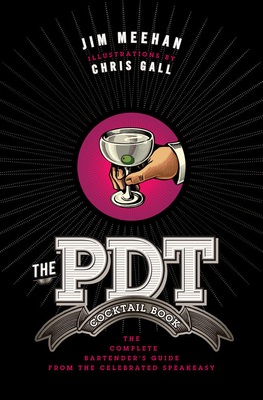 The Pdt Cocktail Book
The Complete Bartender's Guide from the Celebrated Speakeasy
Hardcover

* Individual store prices may vary.
Description
Now you don't have to leave your home to learn how to mix and serve the sensational cocktails created by Jim Meehan, the nationally renowned mixologist at PDT, one of New York City's hottest bars. Beautifully illustrated, beautifully designed, and beautifully crafted--just like its namesake--this is the ultimate bar book by NYC's most meticulous bartender. To say that PDT is a unique bar is an understatement. It recalls the era of hidden Prohibition speakeasies: to gain access, you walk into a raucous hot dog stand, step into a phone booth, and get permission to enter the serene cocktail lounge. Now, Jim Meehan, PDT's innovative operator and mixmaster, is revolutionizing bar books, too, offering all 304 cocktail recipes available at PDT plus behind-the-scenes secrets. From his bar design, tools, and equipment to his techniques, food, and spirits, it's all here, stunningly illustrated by Chris Gall.
Praise For The Pdt Cocktail Book: The Complete Bartender's Guide from the Celebrated Speakeasy…
"I'd peg this as the gift book of the season for the serious cocktail fan: It's extravagantly illustrated by artist Chris Gall, beautifully designed, fun to browse and possessed of a satisfying heft. And there are some 300 drink recipes, many extraordinary, to adapt as your own classic and new-classic cocktails." —The Wall Street Journal "Jim Meehan seamlessly blends classic and cutting-edge in The PDT Cocktail Book, and the result is basically a new-school bible for the cocktail geek. The book covers everything from barware to bacon-infused bourbon, complete with illustrations by Chris Gall. Buy two--despite your best gift-giving intentions, this is a book you'll want to keep for yourself. —MensHealth.com "Cocktails are evolving and becoming more culinary and with that evolution more skill is required from the craftsmen and women who make them. Jim Meehan of PDT is busily mapping the DNA of cutting edge cocktails and I am delighted he has decided to publish his delicious findings. The PDT Cocktail Book is a marvelous, classically illustrated book that I believe to be the book of the decade if not more." —Dale DeGroff, master mixologist and founding president of The Museum of the American Cocktail "Jim Meehan's book is, as the subtitle says, a manual for bartenders, and one that will undoubtedly become a bible for many of them. But any cook--or, for that matter, person--who's seriously interested in mixology will quickly realize it's the definitive work, a roadmap for a lifetime of amazing cocktails." — Mark Bittman, New York Times columnist and author of How to Cook Everything "Americans have always loved drinking, but in the past five years or so America has recommitted itself to learning to drink well! Jim Meehan has helped lead this joyful renaissance, but his specific influence has been to decouple drink perfection from pompousness. Quality drinking should be as unintimidating and fun as it is delicious and smart: that's Jim Meehan's doing. I'm so glad he's written this beautiful book -- shake yourself up an Applejack Rabbit, sit down, and read this like a novel".—Rachel Maddow, host of  The Rachel Maddow Show on MSNBC "I've imbibed every drink in this book; whether I can recall all the nights spent at PDT is another story. Jim Meehan has written a manifesto for aspiring drunks and bartenders alike." —David Chang, chef/owner of Momofuku
Union Square & Co., 9781402779237, 368pp.
Publication Date: November 1, 2011
About the Author
Jim Meehan is one of the most celebrated figures in the drinks industry. Before opening PDT, he worked in major New York restaurants and bars, including Five Points, Gramercy Tavern, and The Pegu Club. He is a contributing editor of Food & Wine magazines annual cocktail book, Mr. Bostons Bartender Guide, and Sommelier Journal. Meehan has been recognized as a rising star mixologist by Star Chefs Online Culinary Magazine, Cheers Magazine and as the 2009 American Bartender of the Year at Tales of the Cocktail. He lives in New York Citys East Village. Chris Gall has created designs for clients that include Ford, Nike, Pepsi, Shell Oil, Sony, McDonalds, and U.S. Steel. His work has been showcased in virtually every major publication in America, including Time, Newsweek, Forbes, People and the New York Times. Millions of New Yorkers will recognize Chriss "Flying Fish," displayed by the MTA for over a year in countless underground subway cars. He has received over 50 major awards from the likes of the Society of Illustrators, Communication Arts Magazine, The New York Art Directors Club, and Print Magazine. Gall has authored and illustrated four childrens books, including America the Beautiful, Dear Fish, Theres Nothing To Do On Mars, and Dinotrux, which was a 2009 Publishers Weekly Best Childrens Book. He lives in Tucson, Arizona.